New in utero test detects baby's gender as early as 10 weeks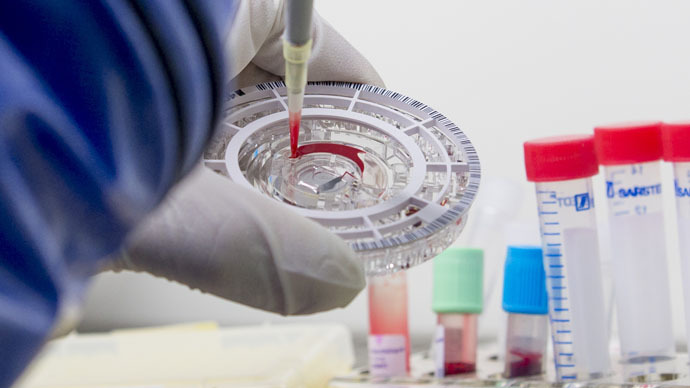 ​Russian researchers have developed a blood test which detects the gender of a baby as early as the tenth week of pregnancy. They say that it's cheaper and more precise than other methods and that its results are ready in 2-3 hours
Scientists from the Russian city of Ulyanovsk presented an updated method of determining fetus' sex at the St. Petersburg International Economic Forum. It gives information about a baby with a simple test of the mother's blood without any invasive techniques.
"Our research was conducted in 11 laboratories in Russia, Ukraine and Kazakhstan. More than 2,000 women were tested. The test has shown to be 99 percent accurate," said Andrey Toropovsky, the CEO of TestGen, biogenic company which developed the method, as quoted by Russia Beyond The Headlines.
Researchers say that the new test takes only 2-3 hours to get the results, while in the USA, for example, a similar procedure's results will take 3-7 days. The Russian method is also cheap; according to developers, its price begins at $36, whereas the American analogue costs $320.
The technique is based on the existence of elements of the fetus' DNA in the mother's blood. Women do not have Y-chromosomes, so if pregnant woman's blood contain them, she is likely to have a boy.
The new test also detects the Rh factor, which is a type of protein on the surface of red blood cells. This is a breakthrough, since this new method is for the baby than any previous invasive techniques
READ MORE: Genetic test can predict if you survive radiation poisoning
"[Until now], to identify the Rh factor, it was necessary to obtain fetal blood sampling through puncture [of the maternal abdomen]. Such procedures increase the risk of miscarriage," Toropovsky said.
About 15% women are Rh negative, which can lead to Rh incompatibility with the risk of miscarriage as a consequence. Previously, the problem was solved in Russia by using a special type of immunoglobulin therapy for all Rh negative women.
"Without such a test, all Rh-negative women in Russia are subject to prophylaxis. In half of the cases it is useless, because the fetus is also Rh negative," Toropovsky said. That means as a significant amount of saved money – $29 million according to TestGen estimations – because immunoglobulin therapy is an expensive procedure which is provided by the state.
Scientists also hope to expand the scope of the test to other areas, such as the detection of Down syndrome.
READ MORE: Autism, developmental delays linked to pesticide exposure during pregnancy – study