​130 years of diplomatic ties: Russian Culture Days kick off in Argentina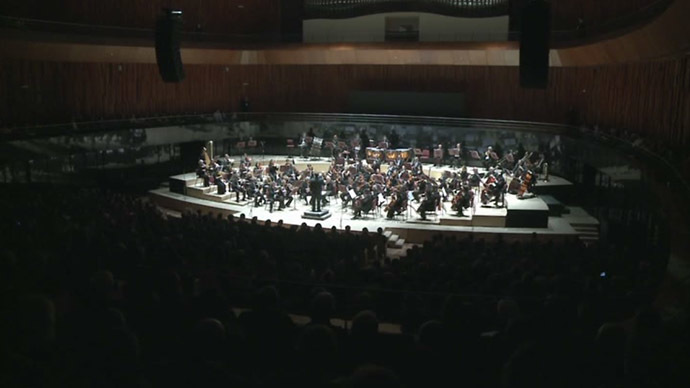 The official start of the days of Russian Culture Days in Argentina was marked by a gala opera concert in Buenos Aires. The two countries have maintained diplomatic relations for over a century.
On Tuesday, the Nestor Kirchner Cultural Center in the Buenos Aires saw an impressive concert that united Argentina's National philharmonic orchestra with prominent Russian conductor Alim Shahmametev, and world renowned opera singers from Moscow's Bolshoi Theater and Saint Petersburg's Mariinsky Theatre, RIA-Novosti reported.
READ MORE: Argentinian President to RT: 'It is absurd to really think that Russia is a threat'
"Before going to Buenos Aires, Russian opera stars gave a concert in Mendoza. Last week, Et Cetera theater made a guest performance in the Argentinian capital with a staging of Shakespeare's 'The Tempest' – it was a great success", Russian Ambassador to Argentina Viktor Coronelli told RIA-Novosti.
Coronelli added that a week dedicated to Soviet and Russian films had taken place in the National Congress library to mark the 70th anniversary of the Victory in World War II. In addition, in the next few days Argentinian cities will host concerts featuring the Russian folk instrumental band "Bis-Cuit".
The ambassador noted that the days of Russian culture had begun in Argentina "to follow agreements reached by our presidents, announced a year ago".
This year's Days of Russian Culture will take place from June 26 to July 5, not only in the capital, but also in the cities of Mar del Plata and Mendoza. An additional series of events is planned throughout the year and will conclude in November, when two festivals, "Mother Russia" and "Feel Russia" will take place in Buenos Aires.
On October 22, the countries will celebrate the 130th anniversary of the establishment of diplomatic ties between them. The date will be marked by a joint photo exhibition of archive documents of the Ministries of Foreign Affairs.
"Generally speaking, during these 130 years the history of the relations between our countries got quite a few worthy, decent pages written. But today they definitely are on the ascent on all tracks: both in terms of the political dialogue and in terms of trade and economic cooperation," Ambassador Coronelli told Kommersant newspaper.