Death-defying escape for Moscow residents as truck crashes into them (VIDEO)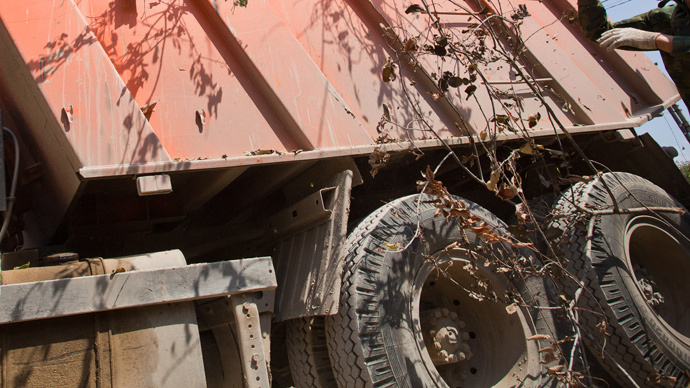 A horrific crash has taken place on a main highway in Moscow as a truck ploughed into over a dozen pedestrians. The vast majority miraculously managed to walk away unscathed, however, two people were taken to hospital.
The shocking footage was obtained by the Life News television channel. It showed pedestrians crossing the road after traffic had stopped at a red traffic light.
However, from the distance, a large orange truck can be seen traveling a speed. The driver applied the brakes to avoid collision with another large vehicle, skidded and ploughed side-on into a crowd of over 20 people. Some of the pedestrians were alert to the situation and managed to run out of the way. However, others were knocked over as the KAMAZ truck came to a halt just before the sidewalk.
READ MORE: 18 dead as passenger bus collides with truck in Moscow (VIDEO, PHOTOS)

Two people, a man and a woman, suffered serious injuries, meanwhile a 53-year-old identified as Egor suffered a broken foot. Ambulance crews managed to arrive at the scene almost immediately and were able to treat patients within 10 minutes of the accident.
"People were crossing on the green light. All the cars had stopped. We were sure that everyone had stopped and around five seconds had passed. However a truck braked suddenly ahead of the traffic lights," a passer-by told Life News.