Sirens in S. Israel as IDF reports rocket launch from Gaza Strip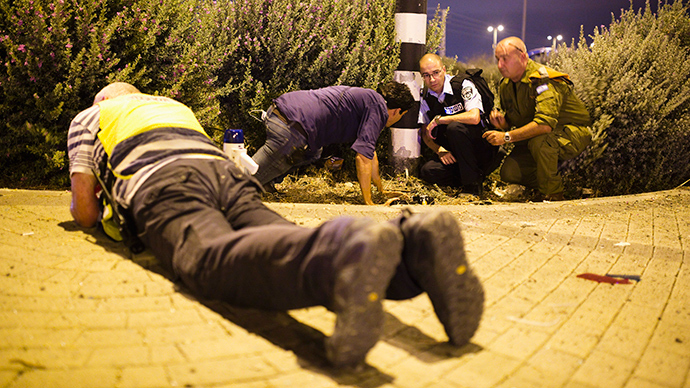 A rocket was launched from the Gaza Strip to southern Israel, the Israeli Defense Forces said on Tuesday. Sirens were heard in the kibbutzes of Zikim, Yad Mordechai and Karmia as well as the settlement of Netiv Haasara.
The Israeli Radio reported that the rocket landed in an open area between two towns.
Breaking: rocket was launched from the Gaza Strip to Southern Israel. Sirens sounded in Zikim, Karmia, Netiv HaAsara and Yad Mordechai

— IDF (@IDFSpokesperson) June 23, 2015
Local residents say they heard a sound resembling a blast, the Times of Israel reports. There have been no reports of injuries.
BREAKING NEWS: At least 1 Rocket fired from the Gaza Strip exploded in open area in Chof Ashkelon area, no injuries or damage reported.

— Israel News Feed (@IsraelHatzolah) June 23, 2015
Previous time the IDF reported a rocket launch from the Gaza Strip was June 11. According to local media, the remains of the projectile were found the next morning in an open field near Ashkelon.
On June 4, rockets were fired from Israel with several massive explosions rocking Gaza. Israeli strikes came after two missiles were reported fired from Gaza the previous day. A Salafist group called Omar Brigades, loyal to Islamic State (IS, formerly ISIS/ISIL) claimed responsibility for that incident.
Israel's largest offensive in Gaza against Hamas, dubbed Operation Protective Edge, took place in the summer of 2014. The operation was in retaliation to Hamas rocket fire claimed the lives of over 2,000 Palestinians and 72 Israelis.
According to UN estimates more than 7,000 homes for 10,000 entire families were destroyed in the Gaza Strip while 89,000 homes were damaged.
The latest UN report, published Monday, has accused both Israel and Palestinian armed groups of possible war crimes during the 2014 Gaza conflict, calling the devastation "unprecedented."
"The extent of the devastation and human suffering in Gaza was unprecedented and will impact generations to come" the commission's chairwoman, New York judge Mary McGowan Davis, said in a statement.