Moscow security guard under investigation over stun-gunning 7yo boy 'for stealing ice cream'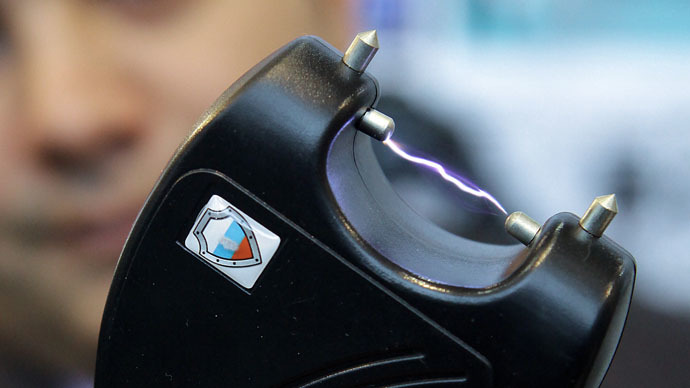 A security guard at a Moscow supermarket has been accused of using an electric shock device against a seven-year-old boy who he suspected of stealing ice cream. The boy was hospitalized, and the police are now questioning the guard.
The Russian children's rights ombudsman, Pavel Astakhov, who brought the case to the public's attention on his Twitter feed, is also reviewing the incident.
READ MORE: 'No evidence': 81yo Leningrad siege survivor arrested for $4 butter theft dies in police custody
"The mother of the injured boy reported the case to the police. The children were showing the guard a receipt, but he still applied an electric shock device," Astakhov said.
The boy was reportedly leaving the discount grocery store "Pyaterochka" on Sunday with three ice creams he bought for his friends and himself. The shop's security guard, who accused him of stealing, followed him. Despite the boy showing a receipt for the purchase, the guard allegedly hit him with a stun gun.
Astakhov specified that "the boy fell to the ground and was shaking", and "the guard fled the scene, leaving him in the street". He added that: "The boy was in need of medical help, while doctors reported his injury were the result of an electric shock."
The Russian MK daily said that witnesses mentioned that the guard was acting strangely. The boy was put on a drip while in hospital, but later discharged and allowed to return home.
READ MORE: Woman 'punishes' cat in washing machine, gets slapped with child abuse probe
"The Moscow police have opened a criminal case concerning the cause of physical injuries inflicted on a seven-year-old child with an electric shock device in a supermarket in the south east of the capital," a press office spokesman from the regional office of the Ministry of Internal Affairs, Andrey Galiakberov, told the TASS news agency.
"At the moment the shop employees are being spoken to as part of the investigation," he added.
The guard could face criminal charges, as Russian law prohibits guards to "apply any unnecessary force to those underage, when their age is obvious," Astakhov concluded.