RIP tchip? French schools may ban 'rude' teeth-sucking
Published time: 4 Jun, 2015 15:48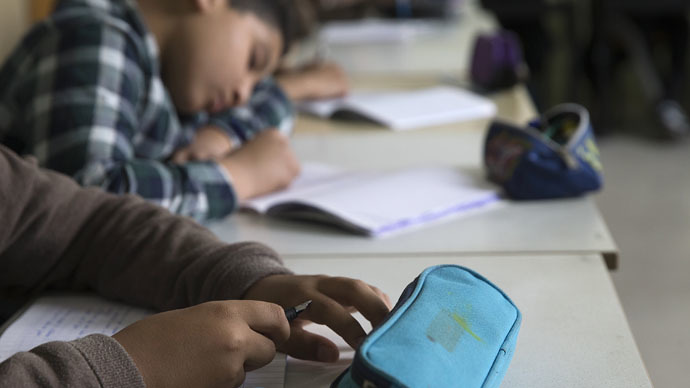 Some of France's schools are considering a ban on the "teeth-sucking" sound of African and Afro-Caribbean origin, dubbed "Le tchip," saying that it is offensive and insulting, local media report, citing school officials.
"Le tchip" is the sound one makes when he wants to show irritation, disapproval or disdain of the behavior of someone else. The sound is made by sucking air through the teeth from behind pursed lips.
The practice of "tchipage" comes from African and Afro-Caribbean cultures.
Le #Tchip se répand dans les "certaines" écoles.. Merci à #Taubira de l'avoir popularisé https://t.co/ahv29U5naahttp://t.co/HH3aZptr1F

— Gaspard Alizan (@GaspardAlizan) June 2, 2015
French schoolchildren have apparently got used to the sound without knowing the nuances behind this teeth-sucking habit, local newspapers report.
"When the teacher sends me to the principal's office I said: 'Tchip,'" one school pupil told Le Parisien.
Teachers are apparently not keen on its use, however.
Le tchip va être interdit dans certaines écoles et collèges #Tchip

— Axelle P (@AxelleAgl) June 2, 2015
"It's extremely vulgar," Eric Bongo, deputy headteacher at a high school in the town of Evry, near Paris, told Le Parisien newspaper, as cited by The Local.
"I grew up in Africa and when I was young it was forbidden to 'suck-teeth' (tchiper) at others…I explained this to my colleagues and now it is forbidden at the school, just like any insult, because it is rude," he said.
Aujourd'hui, on va parler de liberté d'expression. Pour honorer la liberté d'expression, on va interdire les #tchip dans les écoles.

— Shay Ravoson (@ShayRavoson) June 3, 2015
The measure will show children that they need to get away from cultural codes that are inappropriate for school and the professional world, Bongo said.
In the meantime, many students welcomed the ban. "I think it's good that high schools prohibit it," Alyssia, a schoolgirl, told Le Parisien.
Social media users were divided by the ban, with some of them welcoming the move.
"More tchip to school, not stupid. At Congo if you tchip at your parents, your superior, an elder or a cop you're dead!" wrote @242naz user.
Others said the ban infringed their rights to freedom of expression.
"The tchip will be banned in some schools and colleges # Tchip," AxelleAgl said, adding a crying emoji.
"Today we will talk about freedom of expression. To honor the freedom of expression, we will ban # tchip in schools," wrote @ShayRavoson.
"After banning # TCHIP school I propose banning # SLURP noisy coffee machine," mockingly wrote @LEOCLIC
The notorious "tchip" already made sensational headlines in March after Justice Minister Christiane Taubira used the sound to answer her critics in an interview.
"The Tchip spreads in some schools . Thanks to [Christiane] Taubira to have popularized this," wrote @GaspardAlizan.