'Got my butt kicked!' US keeper Tim Howard tackles wheelchair football team (PHOTOS)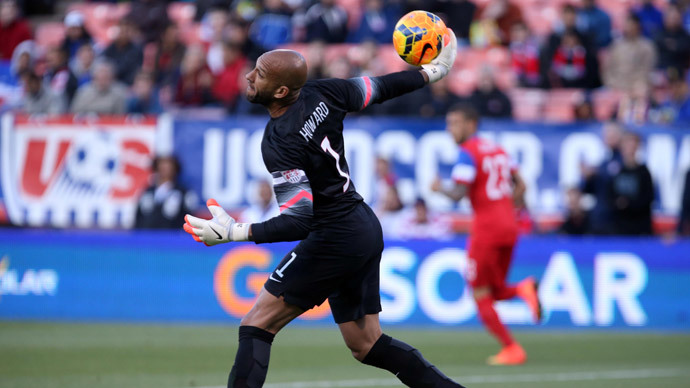 US World Cup hero Tim Howard has taken up a new challenge, joining a wheelchair football team. He was unable to repeat his World Cup record of 16 saves in one match; however, he still got stuck in into acquiring a new set of skills.
The US goalkeeper trained and played a short game with Everton in the Community's Medicash powered-wheelchair football team earlier this month, as they took part in a training session.
Despite having absolutely no practice, Howard showed some "very impressive" skills, according to Everton's Community Disability Manager, Steve Johnson.
Got my butt kicked by the @Everton in the Community Medicash powered wheelchair team! Awesome bunch of boys! #EFCpic.twitter.com/ZldCNUG4bS

— tim howard (@TimHowardGK) April 7, 2015
"Slowly but surely," the 36 year-old, who usually ply's his trade with Everton in the English Premier League, hopes to perfect his skills in wheelchair football. This is of course, if the team will welcome him back - something Howard hopes will happen.
Was an honor to suit up with you guys Jordan! RT @JordanDuke23: Made up to meet @TimHowardGK great guy, great keaper pic.twitter.com/kJe2f0vBsm

— tim howard (@TimHowardGK) April 7, 2015
"I've really enjoyed myself, the guys were great with me and were really helping me along as it was my first time in a motorized wheelchair. They were giving me tips and encouragement when it came to dribbling, passing and shooting. It was a good time," the US Men's National Team goalkeeper told the Daily Mail.
Since middle school, Howard has suffered from Tourette syndrome - a condition characterized by multiple physical tics.
"It's defined as involuntary motor tics - twitches if you like. Some of it is blinking, clearing my throat, different muscle tensing of different body parts," Howard told Yahoo Sports. "Unfortunately it's misconstrued and portrayed in a comical way, particularly in Hollywood and movies and stuff."
The Tourette Syndrome Association described Howard as the "most notable individual with Tourette Syndrome around the world" in 2014 when he was awarded as a 'Champion of Hope'.