Paris tightens regulations for filming actions scenes in wake of terrorist attacks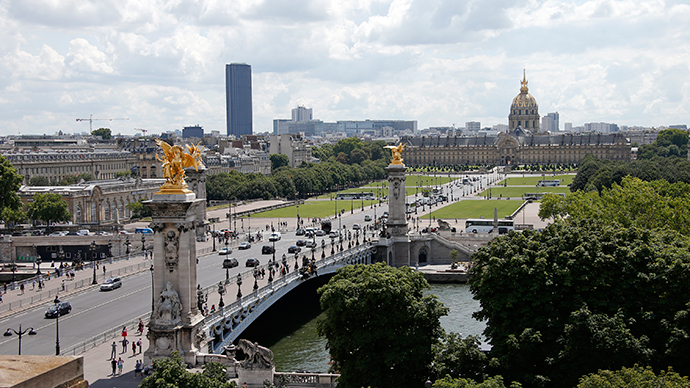 Parisian authorities have restricted filming certain action movie scenes in the French capital, fearing that actors could be mistaken for police amid heightened tensions following January's devastating terrorist attacks.
Filming scenes involving police, arms or security services as well as car chases has been temporarily banned as France steps up security with police and soldiers stationed at sensitive areas, including synagogues, shopping malls, and media offices. Under the emergency security regulations, filming outside religious sites or schools is no longer permitted.
"There's a problem with these action-type scenes, as the actors in uniform could be targets for terrorists," Sylvie Barnaud, the police official who grants outside filming permits in Paris, told AP. "Also, the actors could confuse the general public during this highly sensitive period."
Barnaud said she didn't know how long the ban would last.
The City of Lights has long since served as the stage for popular action sequences, in part because of its wealth of instantly recognizable landmarks.
Already, several productions have been halted. French film, Flics Tout Simplement ('Simply Cops'), was supposed to feature a scene involving a police officer posted outside a school, but had to be reimagined in accordance with the new guidelines.
"Yes, we were meant to film this scene. But it wasn't allowed. Of course, we have to respect the new rules, and we changed the production plan," said Stephan Guillemet, the film's unit director told AP.
In recent years, several smash blockbusters were filmed on the streets of Paris, including Luc Besson's 2014 mega-hit Lucy, which featured a police car chase next to the Louvre.
"Had Luc Besson wanted to film this now, it would be impossible," said William Trillaud, set fixer for the movie.
Similarly, filming Parisian scenes from movies like Edge of Tomorrow with Tom Cruise and Matt Damon's Bourne Identity would not have been possible
You can share this story on social media: