US & Russian balloonists end record-breaking flight with victorious splashdown off Mexico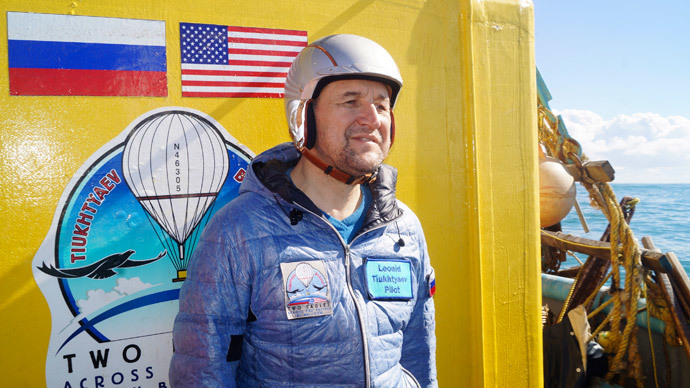 The Two Eagles team successfully crossed the Pacific Ocean in their helium-filled balloon in 160 hours and 37 minutes. The American and Russian pilots victoriously splashed down off Mexico's Baja coast, setting two world records.
Leonid Tiukhtyaev and Troy Bradley covered the distance of 10,696 km (6,646 miles) in six days, 16 hours and 37 minutes after taking off from Japan last Sunday – setting world records for distance and flight duration.
@primerotuimagen Troy Bradley y Leonid Tiukhtyaev arribando a costas mexicanas en su travesía por el pacífico. pic.twitter.com/hqUkxWngME

— JUANA MARIA (@JUANIUZ) February 1, 2015
The team needed to beat the existing records by one percent to make it into the record books. The previous distance record stood at 5,208 miles and was set in 1981 by the Double Eagle V balloon team. The previous duration record of 137 hours and 6 minutes was set in 1978 by the Double Eagle II during the first crossing of the Atlantic Ocean.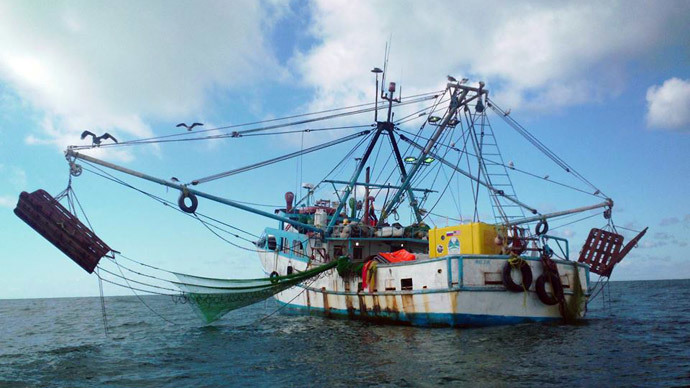 Tiukhtyaev and Bradley made a controlled descent about six kilometers off the Baja coast early on Saturday. A perfect landing was off the cards, thanks to high winds, so the team decided to splash land.
"We would note that a water landing is acceptable under the international rules governing the establishment of world records," said Kim Vesely, a spokeswoman for the ballooning mission.
However, before the new records are entered into the official books, the distance and duration numbers still have to be verified by ballooning authorities in the United States and Europe.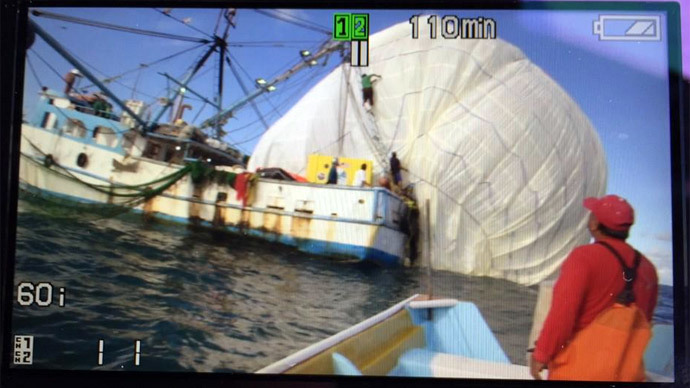 The two decided to veer south toward Mexico, instead of carrying out their initial plan of landing in Canada or the US, due to a change in weather over the last few days of the trip. Mexican authorities welcomed the team as they arrived, and the Coast Guard arranged for the capsule to be towed to shore.
During the trip, the 139,000-cubic-foot helium balloon flew mostly above 15,000 feet, carrying the "two eagles" in their small, hi-tech capsule. The pilots took turns sleeping on a tiny cot inside the capsule, the whole of which was equivalent to a queen-size bed.
Troy Bradley (AS) dan Leonid Tiukhtyaev (Rusia) pecahkan rekor terbang dengan balon udara dari Jepang ke Canada #Nicepic.twitter.com/skayw5BkRG

— PlayWebGame (@PlayWebGame) January 30, 2015
The Two Eagles balloon, crafted by Albuquerque-based Composite Tooling, was designed to stay in the air for a maximum of 10 days. The capsule, made of a strong Kevlar and carbon-fiber composite, weighs only 100 kg (220 pounds).
You can share this story on social media: