'Pretty hard workout': Gym in Sweden offers free snow cleanup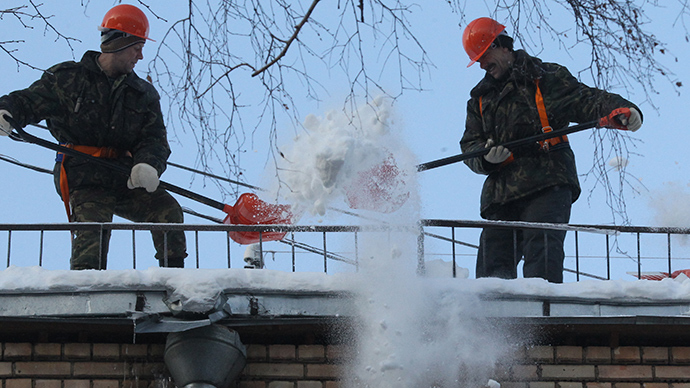 Remember that movie where Rocky braves the Russian winter to get in shape before a historic boxing match? Well, one Swedish crossfit gym is now offering free snow-clearing as "the perfect workout" for its members.
The gym, in the northernmost Swedish city of Lulea, took 10 of its members out for a nice Saturday morning, from 11 to midday. Their task was to clear the snow at multiple locations throughout the city – mostly people's driveways.
"We went all out for one hour, so it was a pretty hard workout," gym owner and trainer Daniel Muotka told The Local. "It's the perfect training. You get the cardio and you get the strength. You can make it as hard as you want or as easy as you want depending on your fitness level. And it's fun."
Snow has really hit Lulea hard this winter, according to local media. So there was a lot of work to be done. "It's obviously chaos in Luleå because of all the snow that's fallen, and we have a gym full of people that love to sweat and work out, so I thought why not do something useful with all the energy?"
Crossfit Holistics, as the gym is called, came to the idea suddenly, when members realized they were better off spending energy in the great outdoors than wasting it cooped up inside. This was followed by an appeal on the Facebook page, where Muotka asked if anyone needed help with their driveways. The only thing they asked in return was a cup of coffee.
Many applied, including businesses, but Muotka's gym gave precedence to older people and those in need – especially those whose younger family members were away in southern Sweden.
"We did what we could with the people we had," Muotka said.
Judging from the gym's Facebook page, the initiative is here to stay: they're launching it as a more permanent winter feature, called Snöhjälpen – or 'snow help' in English.
Sometimes you have to carry your boyfriend during the #WOD. #CrossFitpic.twitter.com/vyJ5Zqsr13

— CrossFit (@CrossFit) February 1, 2015
Crossfit Holistics says it wants to "attract gyms from all over Sweden to do the same thing." Because "we can't do it all ourselves. Some people are really snowed in. I don't know when we've had as much snow as this."
Crossfit, where the emphasis is on pushing your body to its limit, often without regard for muscle strain and injury, is a controversial way to work out that is opposed by some sports experts. Some have gone as far as to call it a "cult," while others compared the practice to "labor camps you pay a king's ransom to join."
You can share this story on social media: