Charity cheese: Denmark company donates 15 tons to homeless in face of Russia ban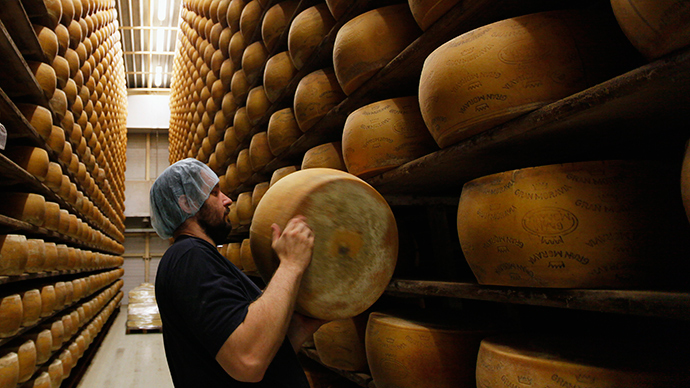 Danish cheese company Arla has opted to donate 15 tons of cheese to homeless people in Denmark after sanctions prevented the usual exports to Russia.
"Since then, Arla has managed to find other markets for almost all the affected goods, but a small part can, for various reasons, no longer be repackaged or sold," a statement on the company website read.

Arla, the world's biggest producer of organic milk and Denmark's largest dairy company, had previously hoped to sell its surplus product to Finland, according to dairyreporter.com, but was prevented because of the mere fact that it was produced in Denmark. Finland requires produce packaging to be labeled in both Finnish and Swedish.
But some of the cheese packs cannot be repacked without suffering any damage. In other cases cheese cannot be remelted because of the added spice.

"We would have liked to introduce our so-called Putin cheese products, but it was not permitted," director of Arla's Finland unit, Reijo Kiskola, told Finnish broadcaster YLE in October.

So the company has come up with an idea to donate its cheese to Food Bank, a Danish charity which takes surplus food from both supermarkets and wholesalers to redistribute among the poor and needy.
"For us it's a very large donation that can benefit several thousand people," the head of the Food Bank, Karen-Inger Thorsen, told Denmark's the Local in a statement.

The Russian sanctions prevent the import of mean, fruit, vegetables, fish and dairy products from the EU, as well as from Canada, the US, Norway and the US.

It was implemented from August and came as a response to sanctions against Russia following the absorption of Crimea into Russia and allegations of Russian involvement in eastern Ukraine.

Prior to the ban, imported cheese comprised approximately 30 percent of the country's market.

The remainder of Arla's cheese that was not going to be resold in Finland and which is being donated to Food Bank catered specifically to "Russian tastes" for example, cream cheese with blueberries, chocolate or olives.