Inside Baharka refugee camp: RT talks to Iraqi survivors of ISIS attacks
Published time: 5 Oct, 2014 19:36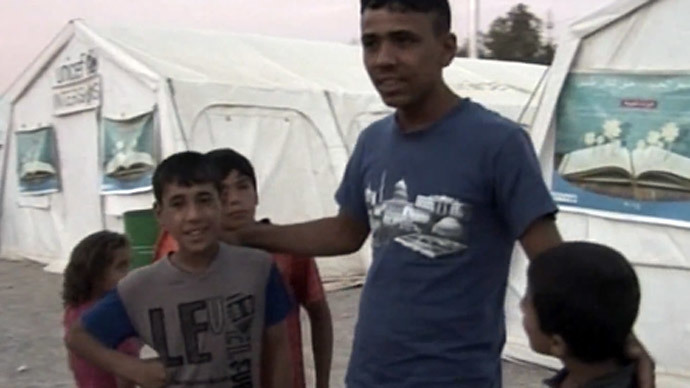 Hundreds of families have been separated from one another, forced to leave their loved ones behind and move to refugee camps due to Islamic State attacks. RT visited a camp which is now home to 725 families, and spoke to survivors of the attacks.
"I didn't have time to cry or not cry. I was just in shock. I picked up and carried my father's dead body. I wish that ISIS had killed me too because my life is nothing now, after this," 19-year-old Hassan Nahtian told RT's Paula Slier.
He moved to Baharka refugee camp in Erbil after ISIS militants – who also killed his brother – blew up his family's house and car.
"Now my mother and two little sisters stay in Mosul. They can't come here. I'm here and I can't go there," Hassan said. He does not know if his loved ones are alive or not.
Hassan is one of hundreds of refugees now living in Baharka, one of the largest refugee camps. Many of the camp's residents are from the city of Mosul, which was taken by Islamic militants back in August.
Ashraf ali Misha also survived an ISIS attack, though militants managed to take one of his brothers.
"I call his phone number and ISIS answers and says 'Okay, come and fetch him.' I said if I come, you will kill me too," Ashraf told RT's Slier.
Watch Paula Slier's report from Baharka refugee camp.