Winner's fail: Top 5 painful, frustrating football goal celebrations (VIDEO)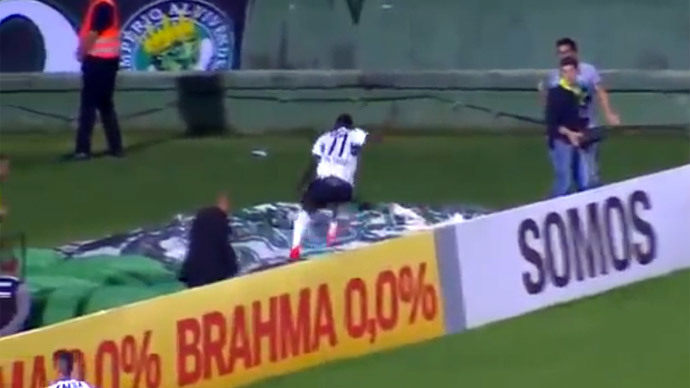 A striker for Brazilian side, Coritiba, fell into the stadium's basement after scoring for his team, inspiring RT to remember the most painful and frustrating goal celebrations in football history.
1. Diederrick Joel was so happy after netting Coritiba's second goal in the Brazilian top division match against Sao Paulo that he absolutely had to share his joy with crowd. The jubilant Cameroonian leaped over the advertising boards surrounding the pitch and suddenly disappeared from television screens. It turned out that the he fell through into the arena's basement, which was only covered by the large Coritiba flag. One of the stewards tried to warn Joel against making the jump, but the player couldn't hear him because of the noisy fans. The forward, who was helped out of the ditch by stadium officials and teammates, escaped with a minor injury and was able to continue the match.
2. Fabian Espindola of LA Galaxy celebrated his goal against Real Salt Lake City in an MLS encounter in 2008 by his branded acrobatics. But this time something went wrong and the Argentinean forward hurt his ankle while landing after a summersault. Several seconds after picking up an injury, which saw him out of action for two months, Espindola learned that his goal was ruled out by the referee due to offside.
3. Footballing great Zlatan Ibrahimovic has netted over 300 goals during his career, but not all of his celebrations went smoothly. In 2008, when Ibracadabra was defending the colors of AC Milan, he upset Sampdoria's keeper with a stunning overhead kick in an Italian Serie A match. But he was then upset himself as the Swede injured his elbow simply by throwing his arm up in celebration.
4. Martin Palermo's career in the prestigious Spanish league was ruined by an unfortunate goal celebration. After scoring for Villarreal in 2002 the powerful striker climbed on the advertising boards, which collapsed under the weight of his team's fans. Palermo, who suffered a double knee fracture in the incident, was never able to regain his place in the starting lineup after the injury, being forced to return home to Argentina.
5. Paolo Diogo knows that love hearts as an absolutely bizarre accident happened to the midfielder while he was playing for Swiss side Servette in 2004. The newly married Portuguese failed to take off his wedding ring before going onto the pitch and paid a big price for violating the rules. Diogo climbed a perimeter fence around the pitch during a goal celebration and ripped off the top of his finger after the ring got caught. The surgeons were unable to reattach the finger, but a yellow card for time-wasting added insult to injury for the poor guy.