Former Auschwitz guard charged over 300,000 deaths in Nazi death camp role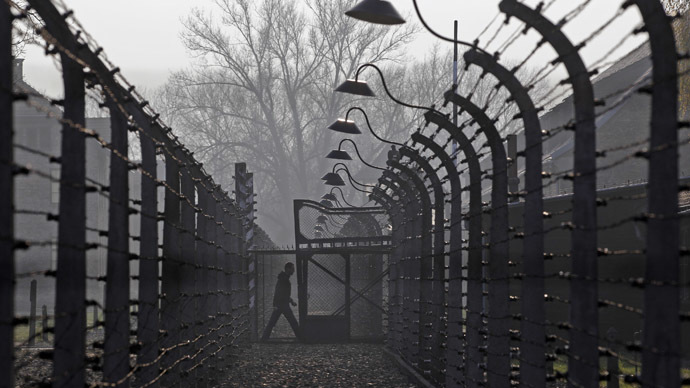 A 93-year-old man has been charged with 300,000 counts of accessory to murder for his role as a guard in Auschwitz. The man spent two-and-a-half years at the Nazi death camp in charge of inmates' possessions and money.
Oskar Groening, who served as a SS Guard at Auschwitz, was charged on Monday by Hanoverian prosecutors of helping to operate the death camp in occupied Poland between May and June 1944, when some 425,000 Jews from Hungary were taken there, and at least 300,000 almost immediately gassed to death.
Auschwitz was a Nazi concentration camp where 1.5 million people, 90 percent Jewish, were put to death.
"He helped the Nazi regime benefit economically, and supported the systematic killings," said Thomas Walther, who represents the plaintiffs reported the Daily Mail. Groening helped collect inmates' possessions and money.
Twenty Auschwitz survivors and their families are co-plaintiffs in a lawsuit against Groening. Many of the co-plaintiffs are among the last survivors of Auschwitz, according to the NY Daily News.
Groening's is the fourth case investigated by Hanoverian authorities under a new precedent in German law. There are around 30 former Auschwitz guards who federal investigators recommended last year that state prosecutors purse. Two cases have been abandoned because the suspects are unfit for trial, and one was closed when the suspect died.
Groening was considered fit to stand trial in March, according to the Daily Telegraph.
"One night in January 1943, I saw for the first time how the Jews were actually gassed," he recalled in an interview. "There were more than a hundred prisoners and soon there were panic-filled cries as they were herded into the chamber and the door was shut.
"Over the years I have heard the cries of the dead in my dreams. I will never be free of them. The guilt will never leave me. I can only plead for forgiveness and pray for atonement," Groening said.
An Allied tribunal cleared Groening of war crimes in 1948. However he claims that he remains haunted by the horrors of Auschwitz to this day.
You can share this story on social media: