Clashes resume in Pakistan as protesters briefly seize state TV station
Police have fired teargas at demonstrators in Islamabad who were trying to reach Pakistani Prime Minister Nawaz Sharif's residence. Earlier protesters, who have been picketing for two weeks against the PM, briefly took a state TV channel off the air.
The clashes resumed Monday afternoon between anti-government protesters who want Sharif to resign and police from Pakistan's capital, as demonstrators tried once again to reach the Prime Minister's residence. Police fired teargas to try and stop them, while live television footage showed the demonstrators to be confused, armed with wooden clubs and some pressing scarves against their faces to less the effect of the tear gas, Reuters reports.
This was the second attempt by protesters to try and reach Sharif's home Monday. In the morning picketers marched on government buildings and managed to break down the main gate into the compound. On this occasion, the police showed restraint against the visibly angry crowd, with just the occasional tear gas canister fired, even though they were being pelted with rocks. A similar attempt was also made Saturday to storm the compound, which resulted in three deaths and hundreds were wounded.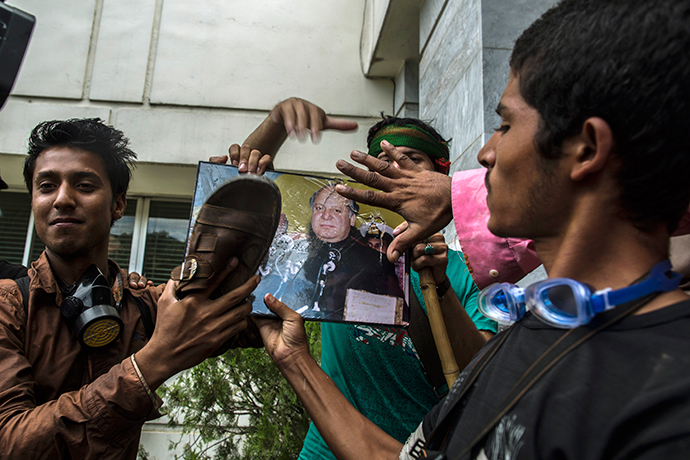 Also Monday, activists tried to storm a Pakistan state TV building. They managed to get to the main control room after rampaging through its corridors and smashed some equipment, a PTV source said.
"They have stormed the PTV office," a news anchor said just before the screen went blank. "PTV staff performing their journalistic duties are being beaten up."
The television center is now back under government control, and transmissions have resumed after Pakistani soldiers and paramilitary forces entered the building and escorted the protesters out, according to Reuters.
However, there were no reports of violence between the paramilitary forces and the protesters.
As the television station came back on air, it broadcast images of protesters embracing the Police Rangers and agreeing to leave, AP reports.
Speaking just hours after the attack on the television building, Defense Minister Khawaja Asif told Reuters that the government was running out of patience with the protesters and would not hesitate to use force, especially if protesters attacked state institutions.
"If not mass arrests, selective use of force can be used," he said, following a meeting with Sharif and his advisers.
"The writ of the state must be enforced. We hope to make a decisive move sometimes later today, not in the evening but even before that," he said. "I personally feel that the next few hours will determine the course of coming events."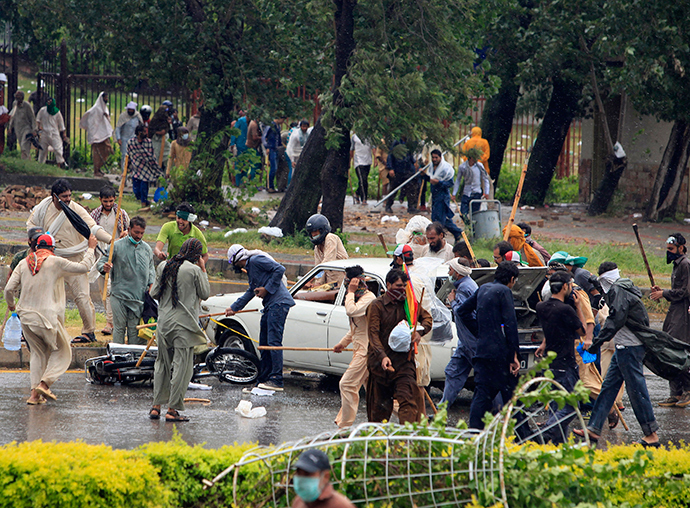 The protests have been led by former cricketing legend Imran Kahn and cleric Tahir ul-Qadri. Kahn says he refuses to call off the demonstrations until the embattled PM resigns. The politician has urged his supporters to refrain from violence.
"I call upon my workers to remain peaceful," Khan said on Monday from atop a shipping container at the main rally site. "Do not carry out any acts of violence. God has given us victory."
On Sunday, Kahn mentioned that he is prepared to see his protest through to the finish.
"I am prepared to die here. I have learnt that government plans a major crackdown against us tonight," he said. "I am here till my last breath."
In his first speech since the protests began, he showed that he plans to remain defiant, saying "We have survived difficult times. In the 2008 elections, our hands were tied. But we campaigned and participated, we did not cry about rigging — and it would have been a legitimate cry," the PTI news agency reported.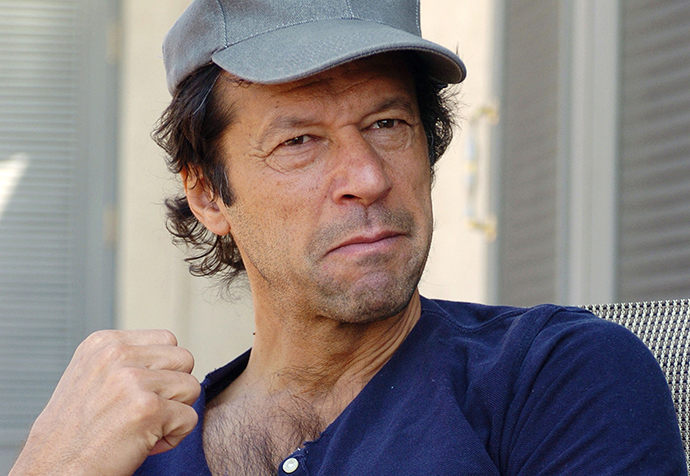 Several rounds of negotiations between representatives of Khan and Qadri and the government have failed to make any headway.
Khan and ul-Qadri have been demanding greater democracy in the country. Sharif, who was elected into power last year, said he would accept all demands for electoral reform, but has refused their demand for him to vacate his position. They believe that Sharif only won that election due to voter fraud. Khan's Pakistan Tehreek-e-Insaf (PTI) party came second in many major cities and he did accept the results of the election but called for a probe into alleged vote rigging. International observers did not find any evidence of vote tampering.
The prime minister is set to address both houses of parliament on Tuesday to try to show that he is in control of the situation. This is Sharif's third spell as Pakistan's PM. On both previous occasions he was disposed by coups.
The protests began on Pakistan's Independence Day, August 14, when protesters began to march from Lahore in the east of the country, to Islamabad. Upon reaching the capital, the thousands of protesters have set up camp near the parliament and are demanding that the PM step down.