Erdogan names Turkish FM as next PM, vows to use his 'full authority'
Published time: 22 Aug, 2014 03:25
Edited time: 22 Aug, 2014 03:45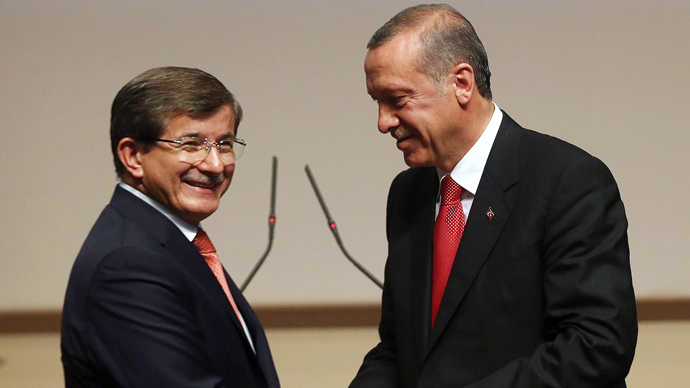 Turkey's ruling party has appointed Foreign Minister Ahmet Davutoglu as its new chair and the nation's prime minister to replace Tayyip Erdogan as he takes office as president. But Erdogan is likely to amend the constitution and keep his grip on power.
Recep Tayyip Erdogan, who won Turkey's first popular presidential election, announced the decision after meeting with senior members of his Justice and Development Party (AKP) on Thursday in Ankara.

"I believe our candidate for party leadership and prime minister will realize the ideal of a new Turkey and the AKP's targets for 2023" when modern Turkey celebrates its 100th anniversary, Erdogan said after the gathering, as cited by AFP.

Davutoglu's nomination has yet to get formal approval from the AK Party's extraordinary congress on August 27, a day before Erdogan's inauguration as Turkey's 12th president.
READ MORE: Turkey's PM Erdogan wins presidential election with 52% - early results
As required by law, Erdogan has to step down both as prime minister and as the leader of the AK Party after he takes presidential office. But he previously made it clear that he wants the party he co-founded more over a decade ago to remain loyal and unified.

"If delegates at the congress elect Davutoglu, then he will be the prime minister," Erdogan told a news conference, Reuters cited.

It is unlikely that the candidacy of the incumbent Foreign Minister will be opposed. Long before he was nominated, it was speculated in the media that Davutoglu would be chosen for the Prime Minister.

Davutoglu vowed that "no seeds of discord" could be sown between him and the newly-elected president, who wants to remain Turkey's undisputed leader, writes AFP.

Considered a strong Erdogan supporter, Davutoglu, 55, has been Turkey's foreign minister since 2009 after serving as the prime minister's foreign policy adviser since 2003. He received a PhD in political science and international relations from Istanbul's Bosphorus University and is fluent in English, German and Arabic.

Erdogan – who has dominated Turkey's political scene for 11 years as prime minister – won Turkey's first national presidential poll on August 10, having secured 52 percent of the vote.
READ MORE: Obama calls Turkey's next president Erdogan for first time in months
Previous Turkish presidents were chosen by parliament. Compared to many other parliamentary democracies, Turkey's head of state has rather significant powers. For instance, under the Constitution, the president is entitled to veto legislation, appoint judges, call and chair over National Security Council meetings, and to call and preside over Council of Ministers' meeting.

However, previous Turkish leaders rarely used such powers and played a largely ceremonial role in the country's politics. Erdogan is set to change this tradition and said he intends to exercise his powers, such as summoning and presiding over Cabinet meetings.

"I will use all of the authorities granted to me in the Constitution. Until today, these authorities have not been used fully, but this doesn't necessarily mean that I will not use them," he told a meeting with AKP members, reported the Hurriyet Daily.

The president-elect also plans to change the Constitution and expand presidential powers in what opponents fear may lead to an increasingly authoritarian rule.

"For the first time, the president has been elected by the people, therefore a new custom has emerged. The 'New Turkey' will have new customs. It will be us who will shape these new customs and we will go on with these customs. We will reach our 2023 target this way," Erdoğan said Thursday after the AK board meeting.

"The new constitution is Turkey's primary concern. I know that Mr Davutoglu has a high sensitivity in this respect," he added.

In the run-up to the election, Erdogan repeatedly argued that the current Constitution grants "executive power" to the president-elect who comes to office via popular vote, which has been compared to the way the 1982 Constitution granted "executive power" to 1980 coup leader Kenan Evren.

Erdogan, who remains Prime Minister before the official inauguration ceremony, urged provincial AK leaders to remain focused on securing a stronger parliamentary majority next year to enable the party to rewrite the constitution.

Constitutional changes require either a popular vote or a two-thirds majority at the Turkish parliament, which AK currently does not have, holding 313 of 550 seats. However, Erdogan has high hopes for the 2015 general elections.

"I said before that the presidential elections would be the starting gun for the 2015 elections," he told the party meeting last week. "Our target should be to acquire at least a majority to establish the new constitution," he said, as quoted by Reuters.