Two Jerusalem attacks leave 1 dead, several injured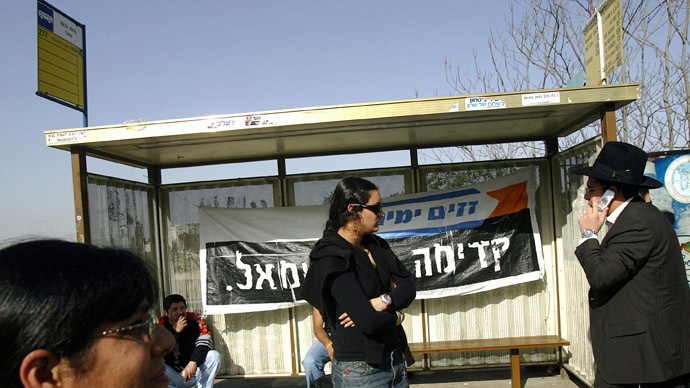 Two attacks took place in the city of Jerusalem Monday as the ramming of a passenger bus by an excavator, which left one person dead and several injured, was followed by an Israeli soldier getting a stomach wound from a gunman on a motorcycle.
A Palestinian construction worker on an excavator rammed and overturned a passenger bus in the neighborhood of Shmuel Hanavi.

The police shot the 19-year-old driver dead at the scene, with the authorities labeling the incident a "terrorist attack."

A pedestrian was killed in the attack and five other people – the bus driver, three passengers and a police officer – received light injuries.

"This could have been a very serious tragedy, if not for the alertness and resourcefulness of the policemen," Nir Barkat, Jerusalem Mayor, is cited as saying by Haaretz paper.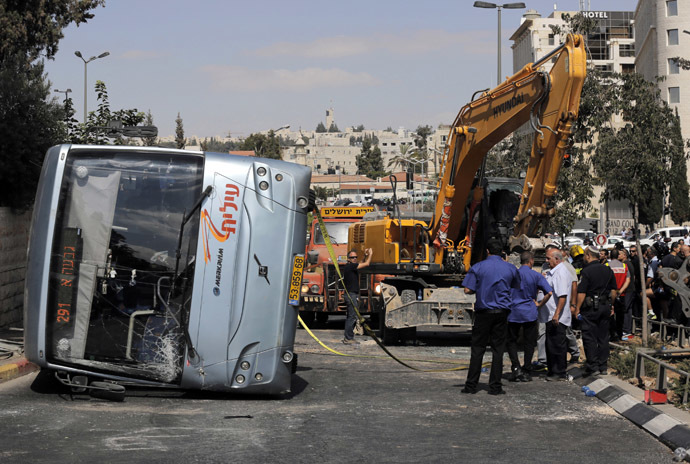 Just a couple of hours later, an IDF soldier was seriously injured in a shooting at a hitchhiking station at Mount Scopus in Jerusalem.

The 20-year-old serviceman was rushed to hospital in critical condition with a stomach wound, RT's Paula Slier reports.

According to the local media, the gunman dressed in black fired several shots and fled the scene on a motorcycle.

A security guard, who was standing nearby, open-ended fire at the perpetrator, but his shots went wide.
UPDATE: The victim of the #Jerusalem#university shooting has been identified as an #IDF soldier, now in critical condition. #Israel

— PaulaSlier_RT (@PaulaSlier_RT) August 4, 2014
"Multiple shots were fired, one man was hit in the stomach and rushed to the hospital in serious condition," Micky Rosenfeld, police spokesman, is cited by the Jerusalem Post. "Police units are now searching the area for the vehicle the suspect drove and hope to make an arrest shortly."

Local police chief, Yossi Pariente, promised to "flood Jerusalem with police" in order to prevent further attacks.

"We are boosting our forces, and we will return safety to residents of Jerusalem," he is cited by Haaretz paper.
Pics from the motorcycle attack: RT @IsraelHatzolahpic.twitter.com/d4tePSxHTH

— Grant Rumley (@Grant_Rumley) August 4, 2014
With tension mounting, Jerusalem mayor, Nir Barkat, warned the city's residents against "taking the law into their own hands," warning that anybody, who attempts to do so would "pay a dear price."