Iconic Berlin TV tower occupied by 40 refugees seeking asylum in Germany
Published time: 9 Jul, 2014 16:56
Edited time: 9 Jul, 2014 20:35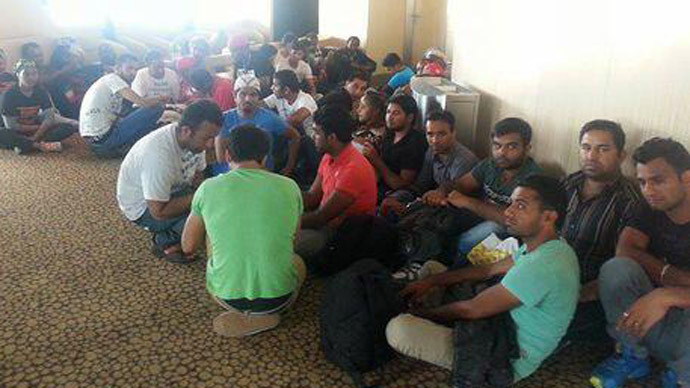 Berlin police used force to evict 40 refugees occupying the city's landmark TV tower on Wednesday. The demonstrators emphasized their place in German society and called for better political conditions, stating, "We are also people."
"Everywhere we are rejected. Everyone has the same answer for us, everyone pushes us further, no one listens to us," said a statement from the group, published on the 'Refugee Struggle for Freedom' website.
Around 40 refugees and several of their supporters bought Fernsehturm tickets and rode the lift up to the ball of the tower at Berlin's Alexanderplatz, after moving from a cleared protest camp at Oranienplatz that sprang up on Saturday, according to local press reports.
#SchauHin: Nach #Ohlauer, #Asylerpresser besetzen den Berliner #Fernsehturm! #Refugees#GHShttps://t.co/RFxWDrgXFHpic.twitter.com/xxxTvJclrT

— SchauHin (@schauhin_) 9 июля 2014
The protesters have demanded a meeting with Berlin's mayor, according to RT's video agency Ruptly which was live at the scene.
"No work permit, no right to education and no right to German courses make our lives unbearable," the statement reads.
Ruptly's video footage shows police using force, trying to evict the refugees from the TV tower.
Another video shows the refugees leaving the TV tower as the crowd standing outside cheers them on.
Earlier police scattered around the base of the television tower and people wishing to enter have been informed by announcements via loudspeaker that the waiting time for entry has been extended 'indefinitely.'
Supporters were also demonstrating in the front of the TV tower.
Last week they claimed to have spoken with the Federal Office for Migration, who, they said, "ignored many of our problems."
"Since we are only laughed at by the authorities and not taken seriously, we find ourselves compelled to occupy the Berlin TV tower."
According to the statement: "Every day people kill themselves in the camps in Germany because they can no longer live this hopeless and painful life."
Last Saturday, some 2,300 people took to the streets in a solidarity protest with the refugees.
Seven officers were wounded and 10 suspects were arrested for assault and the attempted liberation of detainees.