Sick of bribes: Italian police unearth fat kickback lists on edible paper
Published time: 7 Jun, 2014 10:08
Edited time: 7 Jun, 2014 10:09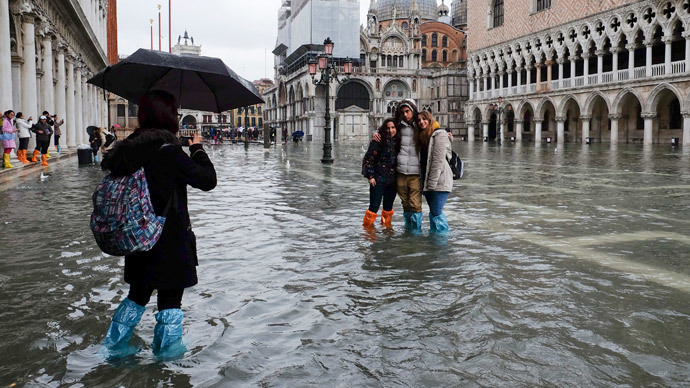 Political corruption in Italy is so prevalent that the mayor of Venice himself has been locked up in a second bribery scandal this month involving a series of arrests and police seizure of massive bribe lists written on edible paper.
Authorities stormed into the house of the parents of an official from the Venezia Nuova, a consortium overseeing the construction of a badly-needed flood barrier to protect Italy's iconic canal city from rising sea levels, Venice's Il Gazzettino reported Friday.
What they found were lists of officials getting kickbacks of millions of euros in bribes – written on edible paper, to be consumed in case arrests were made. The bribes were intended for politicians from some of the major parties to ease the process of approval for certain construction firms. That didn't work out too well.
The kickbacks were connected with floodgate construction works, which have already been drastically delayed and are scheduled to be complete only by 2016 and costs between 5 and 5.5 billion euros ($6.8-$7.5 billion).
Earlier, La Nuova Venezia released a wiretapped recording of a conversation between another construction firm employee and a consultant, where the former is heard saying: "Write it on different paper. Edible paper. You can swallow it if someone arrives one day. I'm not joking."
This was followed by the answer: "They came to my house in the evening and told me they were arresting everyone tomorrow. If they get me, they'll throw away the key."
A series of arrests were made in connection with the works, including that of the mayor of Venice himself, Giorgio Orsoni. He denied any complicity in the scandal in court on Friday, but that couldn't prevent the case from highlighting Italy's rampant political corruption, which is of prime concern to Prime Minister Matteo Renzi, who is spearheading sweeping economic reforms.
Venezia Nuova, the consortium at the center of the hearings, stands accused of leading police on a wild goose chase with bank invoices designed to hide the millions of euros in bribes to the politicians.
The floodgate construction scandal comes just two weeks after a major case involving the 2015 Milan Expo. The show, publicized as an end to Italy's financial woes, ended in another corruption scandal that was a throwback to the early 90s probe that toppled Italy's entire postwar political ruling elite: two of the seven suspects arrested were also arrested some 20 years ago.
They are now suspected middlemen in the case involving a series of construction deals in Lombardy. The Expo's head of construction has also been arrested – he was replaced on Tuesday.
Speaking to reporters, Renzi said he was saddened by the systemic nature of Italy's shady business dealings: "I confess a sense of dismay when I see images of a hand going into a jacket and pulling out an envelope, and the same names from a past that should have been archived and buried," the AP quoted him as saying.
Corruption of this sort is endemic to Italy – the above was only one a few such cases that took place over the past several years. Recent polls indicate the Italian public's trust in their officials is dishearteningly low, standing at just 21 percent.