Brits jailed as Interpol takes 'debt collector' role for Gulf States - rights group
Published time: 22 May, 2014 20:14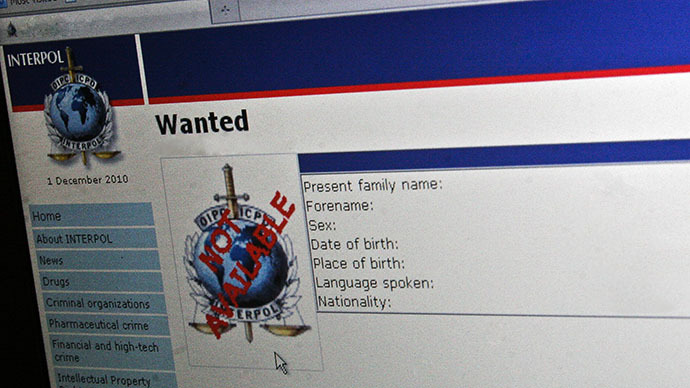 UK residents go to jail and lose jobs over unpaid loans as Interpol has started issuing 'red notices' – their strongest criminal alert – over unfunded checks, which are a criminal offense in states with sharia law, a rights group has found.
The Fair Trials International has labeled the International Criminal Police Organization a 'debt collector' for countries like Oman, Qatar and the United Arab Emirates. The UK-registered charity has stated that by this, Interpol's services are being 'misused'.

The rights group wrote a letter to Interpol's Secretary General, Ronald K. Noble, urging safeguards to be put in place "so that its Red Notice system focuses on bringing serious international criminals to justice rather than wrecking the lives of normal people who have provided blank cheques as security, a common practice in a number of countries across the region," said a statement published on the group's website.

The red notices are based on the penal codes of each state meaning that sharia law administered states' internal workings is leading to Interpol issuing them for the unfunded checks.

One anonymous 28-year-old woman was employed by two Middle Eastern airlines. While living in the region, she took out a loan to buy a car and left the check as a security measure. The woman injured her foot, left the country on sick leave and subsequently lost her job. She could no longer keep up with any repayments and the bank was reportedly unwilling to devise a new method to complete payment.
"This was enough for the country to obtain a Red Notice from Interpol, making [the woman] listed on police databases across the world as a "wanted" international criminal," said the statement.

The woman lost her new job as a result.

"I didn't know what an Interpol red notice was…I couldn't believe it….It was awful. It went on for five months then I was formally dismissed. I kept thinking the police would come and take me," she said in a video released by the group.

"Although we've been able to help vulnerable people to get these Red Notices removed, the damage has often already been done with lives, careers and reputations left in ruins."

Another Briton was arrested in Jordan after also taking out a loan on a car in Qatar and leaving a blank check as a security and had to leave the country at short notice.

"I didn't know what it was about. I was put in a cell for two days. Luckily there was no extradition agreement between Jordan and Qatar so they said I could not be removed. Eventually I was released," the man said. "Now I'm worried about traveling anywhere. It's a big headache to see your name [on the Interpol site]."

The video documenting their problems states towards that over 8,000 Red Notices are issued every year and that "Interpol must do more to stop countries abusing its power and ruining people's lives".

Jago Russell, chief executive of Fair Trials International wrote in the letter that there was a "pattern of misuse."

"A number of countries in the Middle East use criminal charges in relation to bounced checks and the non-payment of civil debts despite the absence of any evidence confirming fraud or other criminal activity," he stated.

"Due to sharia-compliant finance rules, it is common practice for banks and other lenders to require borrowers to write a cheque as security for a loan. If repayments on the loan are not met, the check is then cashed, often without warning to the borrower," he wrote.

A criminal case is then usually opened into the matter of an unfunded check after it is cashed.

The group has requested Interpol to disclose data on bounced checks and unpaid civil debts related to countries with sharia rule.