Ex-Italian PM Berlusconi sympathizes with referendums in eastern Ukraine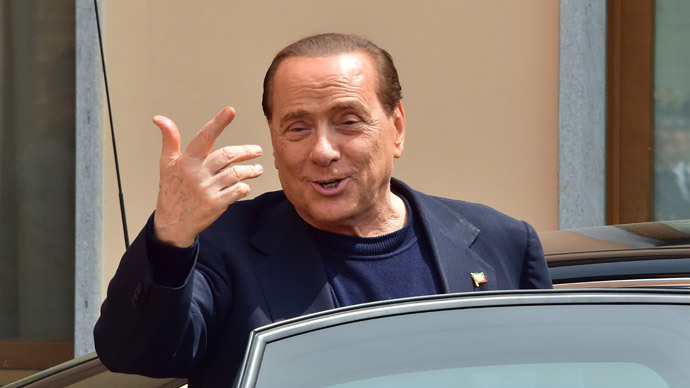 The former Italian Prime Minister Silvio Berlusconi has declared, in an interview with Die Welt, that he understands the decision of the Lugansk and Donetsk people's republics to split from Ukraine.
"The Ukrainian economy is currently in a difficult position. It seems reasonable to me when people from regions where conditions are most prosperous demand to declare independence," the ex-premier told Die Welt.
The ex-premier also underlined that there are other reasons the eastern Ukrainians have a right to ask for independence.
"Their attitude to the current rulers in Kiev is extremely negative," he said.
Also, Berlusconi expressed his sympathy with the Russian position.
It will be very unfortunate if Russia again finds itself in isolation because of the events in Ukraine, the ex-prime minister said.
On Sunday, hundreds of Italians participated in protests in Rome, in front of the Ukrainian embassy, against European media distorting news reports about the situation in Ukraine.
"No to fascism, no to war, no to NATO in Ukraine!" the participants of the peaceful protest chanted.
"No one in Italy knows the truth about what's happening in Ukraine. We're being fed nothing but falsehoods. We must awaken our people, and slowly but surely they are becoming more aware," Julietto Kieza, organizer of the rally, public activist, prominent journalist and an ex-member of the European Parliament told the Itar-Tass news agency.
Kieza called the current situation not just a "regional crisis," but "an unparalleled threat to all."
Hugo Moro, one of the rally's participants, said that the Italians wanted to express their solidarity with the Ukrainians who had fallen "victims to conspiracy and the new Nazi government in Kiev."
Russia, in its turn, Kieza said, is "the only country capable of opposing the ever-present dictate of the US."
The inaugural Rome rally spread across Italy, and, according to Kieza's words, took place in about 50 cities.
On May 11, eastern Ukraine conducted a referendum, with the supporters of federalization in Lugansk and Donetsk declaring sovereignty.
The authorities of the Donetsk People's Republic also announced their intentions to unite with the Lugansk People's Republic and all of southeastern Ukraine.
The latest announcement comes amid the ongoing military operation that has taken the lives of dozens of Ukrainian army forces, and self-defense troops.
The presidential election in Ukraine is set to take place on May 25.