Red Army takes over Cannes: Soviet hockey hits big screen in US-made documentary
Published time: 16 May, 2014 16:06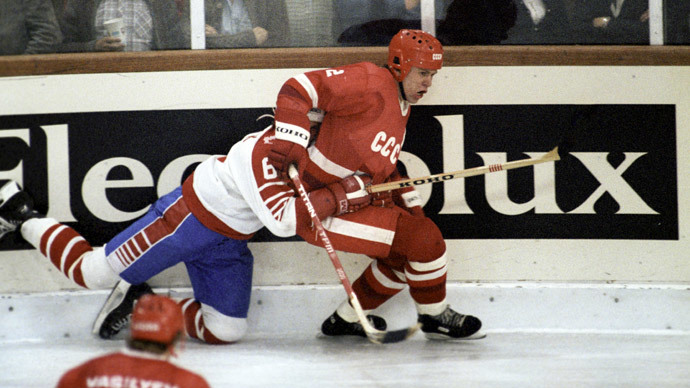 'Red Army', a US-made documentary about Soviet hockey stars, revealing their sporting sacrifices and their struggle against the system, has become the icing on the cake in the special screenings program at Cannes Film Festival.
The film by director, Gabe Polsky, focuses on the story of CSKA Moscow hockey club, which belonged to the Defense Ministry of the USSR and therefore was known as the "Red Army" in the West.

"The world's most dominant sports team," as the authors of the movie call it, provided backbone for the unstoppable Soviet national squad that won seven Olympic gold medals and 19 World Championships.

Polsky, the son of Russian immigrants, who played hockey at university, says his two-year project was aimed at finding out "how and why they (Soviet players) were so good."

But the director, previously, told Hockley News website that "it's not just a hockey movie. It's a very deep and emotional story that gets into the Russian soul."
Legendary USSR and Russia defender, Vyacheslav Fetisov, who is the storyteller in the documentary, speaks frankly about the sacrifices he and his teammates had to make in order to "create a masterpiece on the ice."

"These guys were isolated in Soviet society. For 11 months of the year, they lived together outside Moscow. They weren't really allowed to leave," Polsky – famous for co-directing 'The Motel Life' together with brother, Adam Polsky – said. "It was like the Beatles, they knew each other so well. But they paid a huge price."
Fetisov was instrumental in breaking the iron curtain that prevented Soviet stars from playing for US and Canadian teams in the National Hockey League (NHL).

'Red Army' reveals the player's struggle against the system, which saw the hero of CSKA fans turning into an enemy of state.

Fetisov had to go through a year-long ban from hockey before he fulfilled his dream of moving to the NHL in 1989.

He spent 10 seasons in North America, wining two Stanley Cups titles with the Detroit Red Wings and earning himself a place in the Hockey Hall of Fame.
Besides Fetisov, Polsky managed to talk with such hockey greats like Scotty Bowman, Aleksey Kasatonov and Vladislav Tretyak, with the movie also featuring one of the last interviews by Vladimir Krutov, who passed away in 2012.

Sony Pictures Classics bought North American, Asian and Eastern European distribution rights to 'Red Army' back in April.

The company has issued a statement, in which it called Polsky's movie "Russian history as seen from the perspective of professional ice hockey."