Bahrain hands down life sentences to 8 activists over policeman's killing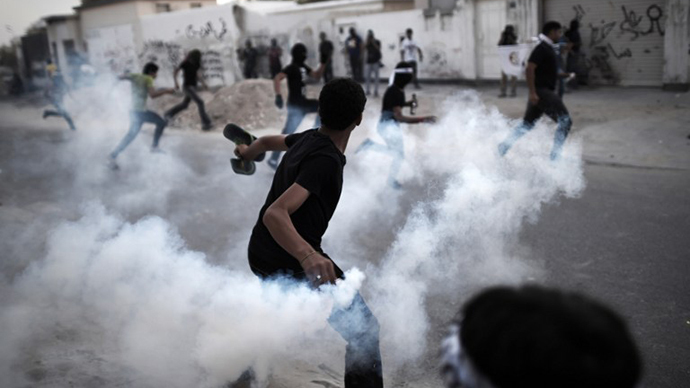 Bahrain's Supreme Criminal Court has sentenced eight pro-democracy activists to life in prison after they were convicted of carrying out a November bomb attack which left one policeman dead.
The court handed down the sentences on Sunday, the Public Prosecutor's Office said. The men were found guilty of planting a homemade bomb close to where police usually set up checkpoints during protests. They were then accused of setting tires ablaze and blocking the road to lure security forces to the area.
One policeman was killed and four others were wounded in the ensuing blast, the prosecutor said.
The men were also found guilty of illegally taking part in anti-government protests in the northern village of Dair in August 2013.
The defendants, however, said they had made their confessions under torture.
In late March, 13 Bahrainis, some of them teenagers, were also jailed for life after being found guilty of attempting to kill policemen by attacking their vehicle and for taking part in an illegal protest in the Shiite village of Bilad al-Qadeem, just outside the capital, Manama.
Last week, 26 Bahrainis were sentenced to 10 years in jail each after being convicted of attacking a police station with petrol bombs and iron rods in Sitra in Bahrain's northeast in April 2012. A policeman was allegedly wounded in the incident.
Following sentencing on Sunday, Bahrain's main opposition group, al-Wefaq, said on its website that detainees were regularly subjected to torture and forced to make confessions and that the courts were ignoring human rights violations committed by the security forces, Reuters reports.
The Bahrain government says it has attempted to curb violence committed by security forces by dismissing officers who cross the line, and installing security cameras at police stations to monitor potential abuses. Activists say the measures have not helped.
Bahrain has been beset by massive street demonstrations since 2011. The opposition has demanded the establishment of a constitutional government in the Shia-majority state, which is ruled by a Sunni monarchy. On the eve of the three-year anniversary of the Arab Spring-inspired protests this past February, Lese-majeste became a crime punishable by up to 7 years in prison.
The US has been reluctant to criticize the small island country, which hosts its strategically vital Fifth Fleet.