Wimm-Bill-Dann to buy back Danone stake for $470 million
Published time: 12 Aug, 2010 09:28
Edited time: 12 Aug, 2010 16:38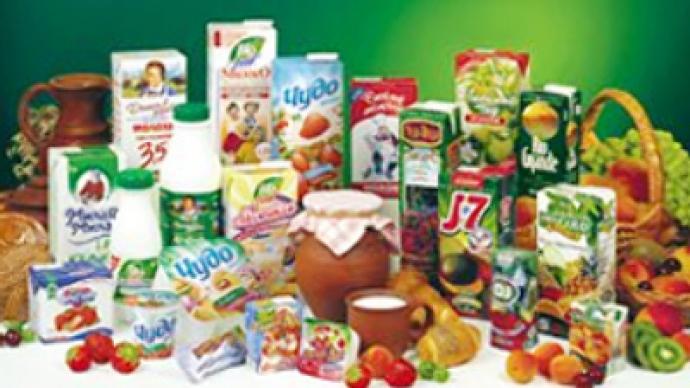 Danone, the world's largest yogurt maker, has agreed to sell its 18.4 %stake in Wimm-Bill-Dann back to the Russian company for $470 million.
Wimm-Bill-Dann said in a statement that the stake includes both local shares and ADRs. The transaction will be funded from existing resources and will not require additional financing. Danone owns 8,080,300 WBD shares, around half of them as depositary receipts. The shares are valued at just over $600 million on the New York Stock Exchange, where one share represents four American Depositary Receipts (ADR). The latest deal on the ADR's was struck at $18.92 per receipt. The shares were valued at around 11.23 billion rubles on the MICEX at yesterday's closing price of 1,390 rubles a share.Tony Maher, CEO of Wimm-Bill-Dann hailed the deal as an amicable outcome which will broaden opportunities for both producers, and would mark the end of Danone's long term position as a Wimm-Bill-Dann shareholder.
"We are very pleased to announce the acquisition of Danone's stake in our company. This agreement represents the amicable conclusion of Danone's investment in our company, an investment Danone has held since our IPO in February 2002. This announcement and the outright purchase of our own shares reflect our confidence in the fundamentals of the business and our strategy for the future."
Alexander Lozova, Deputy Head of Research, at Investcafe said that the sale of the shares by Danone is conditional upon the appropriate governmental approvals for the merger of Danone's Fresh Dairy Product businesses in the CIS region and Unimilk, which was announced on June 18. Danone will control 57.5% and Unimilk's shareholders will own 42.5% of the new company.
"The sale of stake in WBD is due to the requirements of the Russian antimonopoly legislation. The WBD share of the Russian dairy market is about 28%, Unimilk – 16%, Danone – 14% The Danone merger with Unimilk enlarges the proportion of the combined company to 30%. Ownership of shares in WBD poses a risk of monopolization of the market for dairy products in Russia."
Yekaterina Andreyanova of Rye, Man & Gor Securities says WBD is getting a discount on its shares held by Danone.

"The deal infers a price of $58 per share and $14.5 per ADR, which is higher than the local market but markedly lower than the ADR price"

TCB Capital analyst, Natalya Kolupayeva, doesn't think WBD is buying the shares back at a
knock-down price.
"Given that Danone's stake consists of ordinary shares and ADRs in roughly equal proportions, the overall cost of the block of shares ought to carry a premium of about 25% against the local price and a 21% discount on the ADR price"
Unicredit analyst, Vladimir Kuznetsov, believes the shares are being bought at a discount and could be used to help with further acquisitions by Wimm-Bill-Dann.
"WBD has not yet commented on the use of repurchased shares, but if the company
decides to cancel them, we believe that would be another positive, given the shift in the
company's capital structure from equity to much cheaper debt. However, we believe the company could use the shares for acquisitions, given that its key shareholder David Yakobashvili
has previously said that WBD is "interested in everything, including milk, baby food, and
juice."