US graduates struggling to repay $150 billion in loans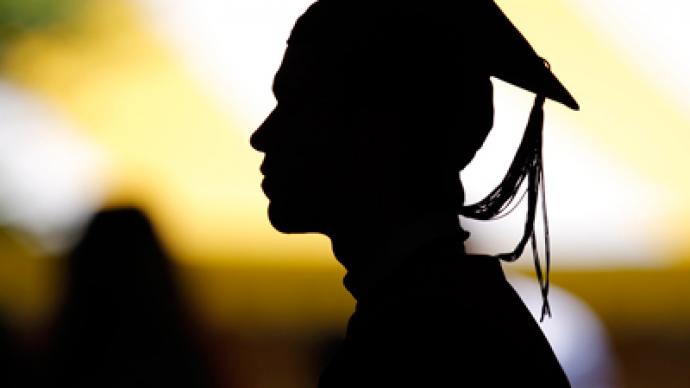 Americans have racked up $150 billion in private student loan debt, with many graduates owing more than they can repay, according to a new report from the Consumer Financial Protection Bureau.
With Americans more often taking a gloomy view of their finances and job prospects, borrowing has increased. Even wealthy families in the US are experiencing problems covering ever rising college costs.Families making more than $100,000 took out more loans in 2011 than the previous year, according to a report released by student lender Sallie Mae and the polling firm Ipsos. Student loans have more than tripled over the past decade, with the loan debt hitting $904 billion in the first quarter of 2012, up from $241 billion a decade ago, according to the Federal Reserve Bank of New York quarterly household debt report. That's up 275% since 2003.Student loans were on the rise throughout the economic downturn, even as Americans cut back on other forms of credit, such as mortgages and credit cards."It remains the only form of consumer debt to substantially increase since the peak of household debt in late 2008," Donghoon Lee, senior economist at the NY Fed told CNN.While these loans represent a small slice of the total outstanding student loan debt in the country, which topped $1 trillion in 2011, they have caused big financial problems for borrowers, the CFPB and the Department of Education found after looking at data from nine of the biggest private student lenders on roughly 5 million loans.Private student loans were aggressively marketed before the financial crisis and typically came with higher interest rates than federal loans, the report found. "Too many student borrowers were given loans they could not afford and sometimes for more money than they needed," CFPB Director Richard Cordray said on a call with reporters. "They are now overwhelmed by debt and regret the decisions they made."Defaulted private loans currently total more than $8.1 billion, representing 850,000 individual loans, according to the report.Before the financial crisis, private lenders "engaged in aggressive marketing and risky underwriting," often borrowers didn't have good enough credit to qualify for the loan, said Cordray.When the financial crisis hit, lenders began tightening their lending standards. But that doesn't help the students who took out loans before 2008. And while federal loans come with certain protections if a borrower is having trouble repaying the loan, private loans don't have most of the same protections like flexible repayment options.
You can share this story on social media: