UK $26bn nuclear plant contingent on gas price rise by 127% in decade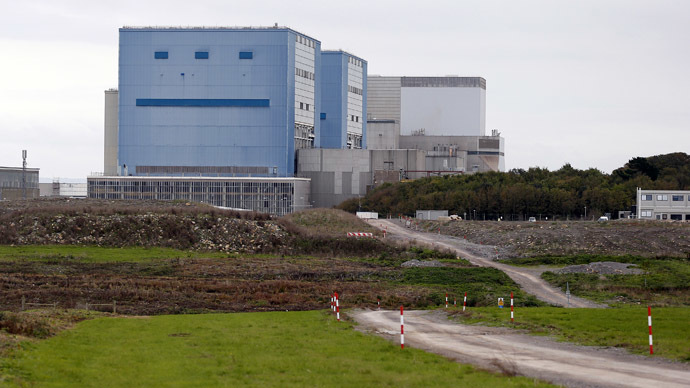 Britain's first nuclear plant in 20 years is a bet energy prices will rise. Experts say the new Hinkley Point facility will be "the most expensive power station in the world" and if the bet fails, the deal will prove "economically insane".
"The Government is taking a massive bet that fossil fuel prices will be extremely high in the future," the Telegraph quotes Peter Atherton and Mulu Sun, who analysed the finances of British energy companies for stockbroker Liberum Capital.
The deal to construct two nuclear reactors at Hinkley Point in southwest England – the world's first nuclear deal since Fukushima disaster - was agreed by the UK, Electrcite de France SA (EDF) and China . To have a guaranteed return on the estimated $26 billion investment, the plant owners need the cost of fossil fuel such as oil and gas to rise dramatically.
The Liberum analysts estimate the minimum energy price would need to stand above £121 per megawatt hour within ten years, which means the wholesale price of gas would have to go up by about 127 percent over that period.  Wholesale prices were about £60 last year, according to the energy watchdog Ofgem.
This is the equivalent to an oil price of well above $200 a barrel, compared with about $110 this week, the Telegraph reports.
"We are frankly staggered that the Government thinks it is appropriate to take such a bet and underwrite the economics of this power station. We are flabbergasted that it has committed future generations of consumers to the costs that will flow from this deal," the Liberum Capital analysts say.
The $26 billion (£16 billion) price tag of the two reactors would be enough to build gas-fired power stations with output eight times higher, Liberum calculated.
"For the cost of £16bn for the 3,200MW to be built at Hinkley, the UK could build 27,000MW of new gas-fired power stations, solving the 'energy crunch' for a generation."