Sviyazinvest to merge regionals with Rostelecom
Published time: 21 Oct, 2009 16:18
Edited time: 21 Oct, 2009 20:58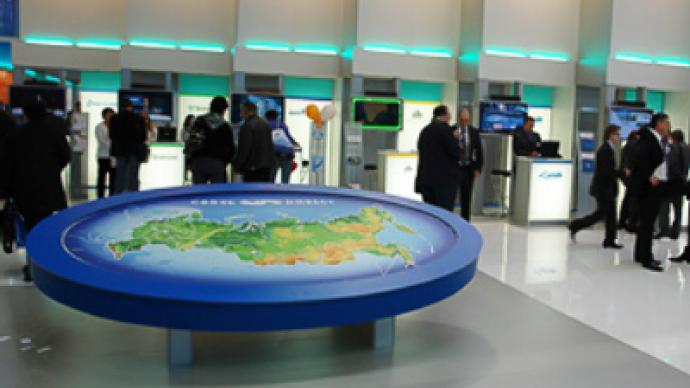 Telecoms giant, Sviyazinvest, has approved a plan to merge its regional fixed line operators with Rostelecom by May 2011 in a move it expects to bring more than $1 billion in synergies.
The proposals now need to be backed by the boards of the regional telecoms at meetings to be held over the course of 2010. These will be accompanied by a determination of share swap ratios with the regional companies, which is expected to boost liquidity.
According to a Sviyazinvest statement the merged company will be listed both in Russia and internationally, and offer a comprehensive range of telecoms services, including fixed line, mobile, and broadband.
Analysts noted that the move may not be a moment too soon with regional telecoms experiencing a booming demand for broadband, providing the merged company scope to leverage its existing regional operations. Konstantin Belov, Senior Telecommunication Analyst at Uralsib Capital, noted that the merger would position Sviazinvest to compete more effectively.
"Of course, there are certain risks, with the risk of losing time being the main one. I mean, the broadband market in regions is one of those growing the fastest, and this could be the right time to focus on this and try to compete with the key rivals there, such as MTS, Comstar and VimpelCom. Actually, I'm quite positive about this deal, as at least it'll increase the company's liquidity."
Belov also noted that the mooted delisting of Rostelecom shares in New York would be likely followed by an international re-emergence, with the share swap ration likely to be keenly watched by investors of the regionals.
"Indeed, today there are numerous talks about about Rostelecom's delisting, as the company doesn't comply with the minimum liquidity requirements. But, I think, later shares of the joint company could be listed in New York or London. There are different ways to become a shareholder of the company, but taken that the shares of Interregional companies are undervalued now, while those of Rostelecom are overvalued, it's better to do it through Rostelecom."