Step forward to the Eurasian Union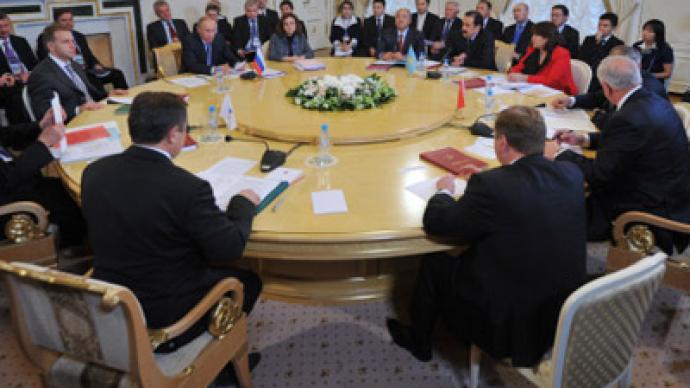 The Customs Union Commission which regulates cooperation between Russia, Kazakhstan and Belarus will be replaced by the Eurasian Economic Commission on July 1, 2012.
The ministerial statement following the establishment of EAEC, on 19, October in St. Petersburg, lays out a significant increase of duties the EAEC will take on as the Customs union backed by PM Putin and other CIS leaders takes shape
According to Kommersant the new Regulatory Commission workforce will grow from 150 employees to 1,200 which will burden the Russian budget in accordance with member share contribution on the basis of customs duties where Russia accounts for 87.97% of all duties in the Union.
EAEC will receive more powers and duties in customs and tariff regulation, customs administration, establishment of trade regimes with third countries, monetary policy regulations, macroeconomic issues, energy policy and competition policy, regulation of state monopolies, industrial and agricultural financial aid issues, procurement, transportation, migration, financial markets.
The authorities of the Commission of the Customs Union says the new expanded commission "will fall under regulatory body of The Eurasian Economic Community" and will be based on "structure and achievements of the previous regulatory body which has made significant contribution in the development of the new Customs Union commission"
The original Customs Union of Belarus, Kazakhstan and Russia was agreed in Dushanbe on October 6, 2007. Recently, Kyrgyzstan expressed their will to join the Customs Union under special circumstances providing the change of the regulatory body which follows.
According to key economists the development of a free trade zone across the CIS nations is likely to have major benefits for Russia including increased exports and investment, as well as a larger stage for the rouble.
Alexei Makarkin, VP of the Center for Political Technologies, says Russia expected the new member in the Customs Union which provide more benefits for establishment of the Eurasian Union
"The reorganization of cooperation between the members of the Customs Union is a part of the strategy of Russian Prime Minister Putin on establishment of the Eurasian Union. The intersection of two main issues provide for improvements in intergovernmental cooperation"