Japan's Softbank gets big bite of US mobile carrier Sprint
Published time: 15 Oct, 2012 14:49
Edited time: 15 Oct, 2012 18:53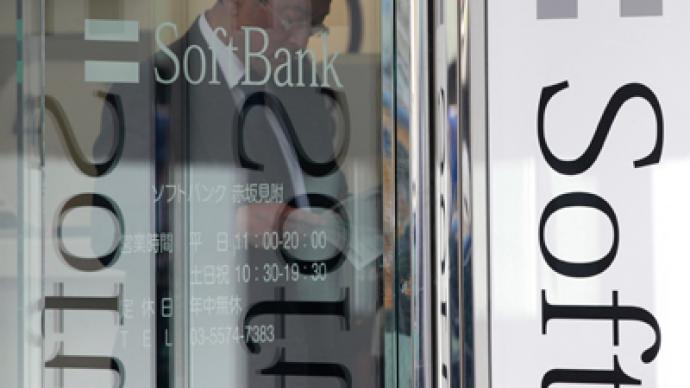 Japanese internet – related business Softbank Corp seals its largest ever foreign acquisition, having reached a deal to buy 70% of US mobile carrier Sprint Nextel Corp.
The deal worth $20.1bln will bring together the third biggest mobile carriers of both Japan and the US. With the forces of the two companies joined, Sprint and Softbank will become one of the top world smart phone providers, gaining greater bargaining power with the gadget manufacturers and network equipment suppliers.
"This is a transformative transaction for Sprint that creates immediate value for our stockholders, while providing an opportunity to participate in the future growth of a stronger, better capitalized Sprint going forward," Sprint CEO, Dan Hesse said.
While the deal has been green lit by the boards of both companies, it still needs approval from Sprint shareholders and US regulators. Softbank said the transaction is expected to be completed by the middle of next year.
Investors weren't inspired by the news of the acquisition by Softbank of a company with financial strings attached. Sprint has $21bln in long-term debt, and has launched a costly network restructuring and signed a long-term contract to buy $15.5bln worth of iPhones from Apple Inc. over four years.
Softbank shares went lower on the news by about a third. Standard & Poor's had placed Softbank on "credit watch negative," meaning its credit rating could be downgraded. Shares of Sprint shot up in anticipation of the offer.
Softbank Chairman and CEO, Masayoshi Son said the investment made sense because the US is the world's biggest market in smart phones, and it was still growing. Son has a record of buying struggling mobile companies and turning them around, including the Japan unit of Vodafone.
The Softbank CEO has made no secret that he has been looking abroad for new growth as the Japanese mobile market has been stagnant for years. Softbank has been an exception in racking up strong profit despite such stagnation, largely on the popularity of the iPhone.
The Japanese Corporation was the first carrier to offer the iPhone in Japan, which was extremely successful. Son said earlier this year that he is determined Softbank will overtake NTT DoCoMo, the long time No. 1, and a former government monopoly.
The Softbank Group relies on the Internet in terms of its business growth. Main business segments of the Group include mobile communications, broadband infrastructure, fixed-line telecommunications, and Internet culture.
Sprint Nextel Corp. is a wireless and wired voice and data telecommunications company serving customers in the United States, Puerto Rico and the US Virgin Islands.