Soft real estate market has firm spot with Moscow border changes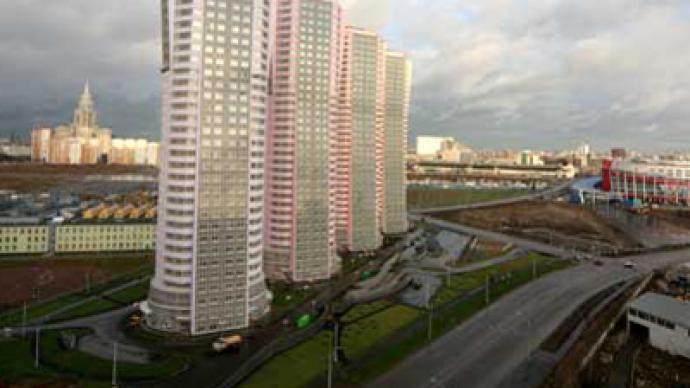 Plans by the Moscow government to increase the size of the city and support more construction, have triggered a spike in real estate prices in affected areas while the rest of the Moscow residential market is soft.
­Moscow Mayor, Sergei Sobyanin proposed increasing the city's borders as well as moving Moscow Government agencies to the outskirts to reduce the impact of heavy traffic.  According to real estate agents, Blackwood, since the expansion of Moscow borders was announced, predominantly in the South West, the average price of in the new residential real estate, located between the Kievskoe, Warshavskoe and Borowsky highway, has grown 18% per square metre, while increasing 5% in Moscow.
Inkom real estate statistics showed a September decrease of 7.1% to $6.495 per sq.m on Moscow's secondary market on the back of weakening rouble, with "NDV-Nedvizhimost" seeing primary real estate falling 2% to 157.9 roubles per square metre over August-September.  

Sergei Sobyanin, Moscow Mayor, has told journalists that the cost Moscow real estate will continue to decrease gradually
"The situation will change gradually. The share of mortgage deals will decrease as more housing becomes  available with the state social support strategy"

Maria Shishkina, analyst at IC Russ-Invest, says economic uncertainties and exchange rate volatility have contributed to a slight rise in real estate prices
"The real estate market has always been a safe haven for long-term investments notwithstanding market surge during the crisis. However, it is obvious that the cost of sq.m consists not only of construction expenses including cost of materials, labour and the market but also of economic factors which underpin supply and demand volumes, affect oil prices and rates, ultimately, put pressure on the local currency. In these circumstances, if oil price falls to $80 per barrel than rouble is likely to weaken. Given that, developers prefer to postpone construction and freeze their activity on the object for a certain period in order to resume construction and sell on profit rather than risk with price reductions."

Despite overall downward trend brought by economic volatility the country's major developers have doubled their sales due to improving confidence among investors and new partnerships with credit institutions says Shishkina
"Investors seek stable, long-term assets to save and increase their capital –that is what real estate market can provide. We can observe significant growth of developers' activity and thus growth of their profits and sales which is due to rising demand. For instance, The PIK group operational results for the 3Q 2011 demonstrate sharp increase of deals to 5.11 billion roubles which represent 63% year on year growth in money terms or 47.3% increase in volume of square meters sold. Moreover, the share of mortgage deals increased 29.5% year-on year reaching the pre-crisis levels. That signifies that people are aware of economic slowdown and further uncertainties on the markets. I presume, that by the end of the year we could see a sharp increase in the number of deals on residential real estate market"

Shishkina adds that real estate prices are underpinned by strong demand dynamics and are likely to continue into the future.
"The situation when prices fell significantly over 1 month happened in 2008, when developers were forced to sell on low prices according to the market due to absence of demand and competition. This is not likely to repeat in the next two-three years. The demand will always exceed the supply in Moscow. In order to cut prices the government should spend more money on social programs for families and provided more subsidies and better conditions for developers rather than stimulate elite real estate construction willing to increase attractiveness of Moscow as a financial center"