Sobering thoughts for Russians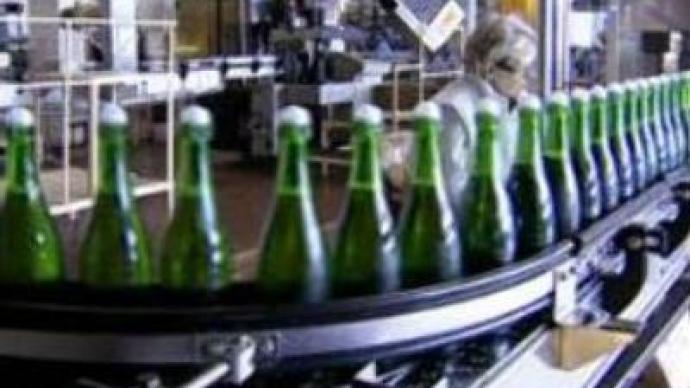 Russians will have less choice this New Year's Eve in what bottle to buy to bring in the New Year. Changes last July in the alcohol industry led to shortages and high prices for champagne, wine and other popular drinks.
A new law was adopted requiring electronically chipped excise labels which traced every bottle, from the producer to the consumer. This applied to all alcoholic drinks except beer.The main goal was to create a database, to track turnover, and collect taxes. However, the new labelling machines were too expensive for most of the players on the market.Neither the hardware, software nor the labels were ready in time. This caused chaos and empty shelves.The government had to take a step back: new labels were introduced, but these were not entered in the unified database, the so-called EGAIS, which tracks the production of wine and spirits.The poor implementation of EGAIS in 2006 cost the alcoholic beverages business an estimated $ US 1 BLN.In addition, EGAIS was not the only blow to wine-lovers.Russia banned Moldovan and Georgian wines in March 2006 citing health and quality concerns. These accounted for more than 40% of the Russian wine market. Rival producers rushed to fill the gap.Even after the ban was lifted in November, Moldovan wine companies had to fight hard to win back their market share. Meanwhile, counterfeit products, particularly in the lower price-range, proliferated.After a series of alcohol poisonings, the government introduced a bill proposing a monopolization of the alcohol market, including production and distribution.Both houses of the Russian parliament support the bill.However, some experts think a government monopoly will not solve the three main problems facing the drinks industry: first – the legalization of the market, second – counterfeit products, and third – collecting taxes.The New Year could herald in more problems than solutions for the troubled industry.From February 2007, the EGAIS register will indeed switch to a fully-electronic tracking system and companies are being given only 25 working days to comply with it.A sobering thought.
You can share this story on social media: