Sberbank placement to go to market as interest in financials mounts
Published time: 19 Apr, 2011 12:55
Edited time: 19 Apr, 2011 17:49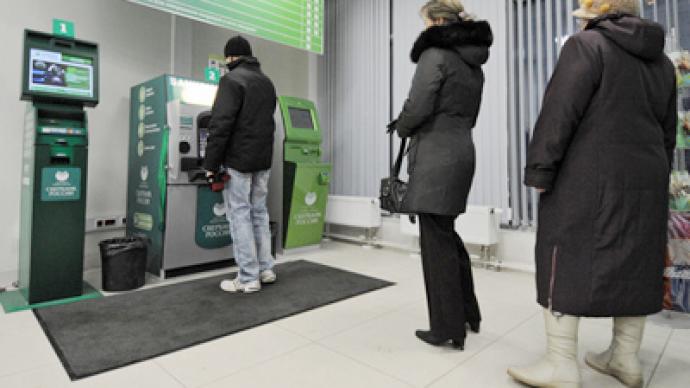 Sberbank is planning to conduct an SPO on stock exchange as part of the government's privatization agenda according to Sberbank President Herman Gref.
Speaking with Business RT Gref said timing and volume would depend on the market.
"It is clear that the shares will be offered on the stock exchange and the volume will depend on the circumstances." 

The Sberbank president added that the board will define the volume of the stake with a view to attracting strategic investors.
"We are preparing to square away with the volume of the upcoming offer, this in turn will depend on the number of open bids in the book.  It is not yet appropriate to anticipate the entire stake being purchased by strategic investors."
Sberbank is expected to offer 7.6% of its shares in the state privatization program sometime during 2H 2011.
BKS Financial Group head of analysis, Maksim Shein, says the Russian banking sector is very attractive but pricing issues will be particularly important, given potential threats to the market outlook.
"The Sberbank SPO is still some time away, but it is likely to happen in Autumn of 2011.  By this time market conditions may change and affect the pricing and the volume of the placement, but a 7.6% stake is possible according to the government's privatization program. There is not much possibility of attracting a strategic  investor for the entire stake, because of the relatively small volume on offer. In general, strategic investors will be more inclined to look at larger stakes for longer term opportunities."
Shein added that the successful Nomos Bank IPO has added to the attractiveness of Russian financial equities.
"The successful placement of Nomos-bank increases interest and investor appetite. Investors have a lack of choice from the Russian banking sector.  While it looks very attractive, I believe more Russian banks will look to list in the coming years. Russian companies as well as financial institutions have more access to big funds and strategic investors in foreign markets. But, still it is too early to project the outcome of the placement which could be affected by global economic issues such as USA credit ratings, EU debt policies and Central Bank monetary policies."