Russia's equity market takes deeper plunge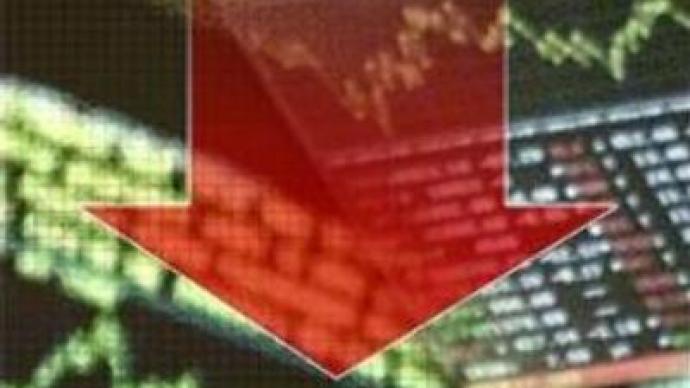 Russia's equity market has taken a battering in its opening hours with prices plunging which follows a trend across the globe as share prices continue to fall – a pattern that is expected to continue throughout the week.
Investors hoped for a brighter week following last week's turmoil. But this Monday signs are even worse.The Asian market sell-off is turning into a global contagion – and Russia's far from being immune, with both the RTS and MICEX slumping in lunch time trade Monday.The RTS index has sagged by over 3.5% and this is year's lowest result.The MICEX index – a benchmark indicator of the Russian stock market – had fallen by 5.29% by 8 a.m. GMT.Energy giant Gazprom and electricity monopoly RAO UES saw significant losses.Gazprom is down over 7% on the MICEX and RAO UES plunge almost 6%.Experts are predicting the Russian Stock Market, has further to fall over the next week.It's looking like a classic risk sell-off after a strong bull run. The net result is a sea of red on all the markets we track.On Asia markets the overall picture is the same. The Nikkei recorded its biggest one-day tumble in nine months. Hong Kong blue chips are off 4% and it's their biggest one-day percentage drop since late 2003.Ultra-low interest rates in Japan had encouraged many investors to borrow yen and use the money to invest in high-yielding currencies and their assets elsewhere.As a result yen's up against the dollar, euro and pound. That's hitting Japan's exporters hard: Toyota Motor Corp. and Canon both are finishing down. Worries over the state of the U.S. and Chinese economies in the face of a strengthening Japanese currency led to money being moved away from what are viewed as riskier assets.Europe's biggest bank HSBC Holdings is up just over 1% on the FTSE after posting a 5% rise in 2006 profits, just short of analysts' expectations. It's been hit hard by $US10.6 BLN of bad debts in its US mortgage lending business.Oil prices are also falling on Monday. Those equity losses leading to concerns over economic growth and seeing investors pull back from riskier short-term commodities like oil.
"What I can suggest to investors is to stock specific and to pick individual stocks that will benefit after the sell-off does come to an end and pretty much subside and I think that you have to be not just specific and do not buy indiscriminately,"
says Derick Pearlin, Managing Director of the MDM bank in Moscow, advising his clients to do in the wake of the global rout in equities.Meanwhile, Russia's Trade and Economic Development Minister, German Gref, said that Russia is not facing a stock market crisis. He believes that it is likely the markets will be calm for some time until investors realize the extent of the fall. The minister believes that it makes no sense to get rid of Russian stocks. He added that the plunge will definitely affect the capitalization of Russian companies and current investors' plans but, hopefully, this crisis won't last long.As equity markets around the world continued to struggle, U.S. stocks fell after trying to stabilize. The Wall Street index dropped on opening, but recovered on news that the service sector was still growing.But investor concerns over the state of the U.S. economy, particular the mortgage market, meant the earlier gains were erased by closing. All U.S. indices – the Dow, S&P and the NASDAQ – went down.But despite the lower finish, the U.S. markets performed better than those overseas.
You can share this story on social media: