Russian stocks push higher on Thursday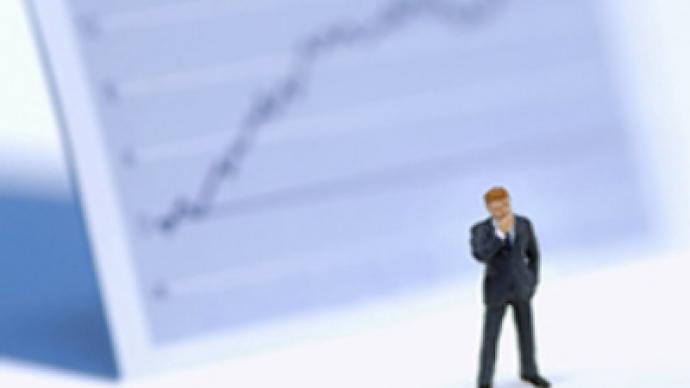 Russia's RTS and Micex exchanges have posted strong gains in Thursday trade in the wake of a further cut in the overnight funds rate in the United States, rebounding crude prices, and a strong performance in Asian trade.
Within an hour of opening the RTS and Micex had posted strong gains and at 12.00 Midday both indices were up 8.2%. The rebound in global crude prices continued with Nymex futures approaching $70 BBL and both the WTI and Brent spot above $65BBL in the wake of renewed concern about the long term global supply demand balance, and with Venezuelan Oil Minister Rafael Ramirez stating in an interview that OPEC would probably cut production again to limit inventory build up. In Moscow this sees Gazpromneft up 12% on the Micex at 12.00 Moscow time, Rosneft up 9% and with Lukoil and Gazprom both up more than 7%.
Signs that global credit environment is easing, with Libor falling for 13 consecutive days, along with government lending support beginning to make itself apparent with companies sees Sberbank (up 10%) and VTB (up 9%) gaining in lunchtime trade. Other stocks enjoying a positive morning include Uralkali (up 7% on the Micex at 12.00 Moscow time) Mosenergo (up 6%) and Severstal (up 9%) with Raspadskaya down 2%.
The mood on Russian trading floors comes in the wake of solid gains in Asia after the US Federal reserve cut its key overnight rate by 50 Basis Points to 1%. In Tokyo the Nikkei added 9.9% with the Hang Seng up 11% in late afternoon trade and Shanghai up 2.5% after the Chinese government trimmed interest rates to spur economic growth. Early morning trade in Europe sees the FTSE 100 up 0.3% with resources gaining and insurers down, the Cac 40 up 0.79% with Alcatel-Lucent up 17%, and the Dax up 2.7% with truckmaker Man AG up 9%.
Russia and China look to move trade to new level
Russian oil producers cut capital expenditure while looking for taxation changes
You can share this story on social media: