Russian advertising to outrun the economy in 2007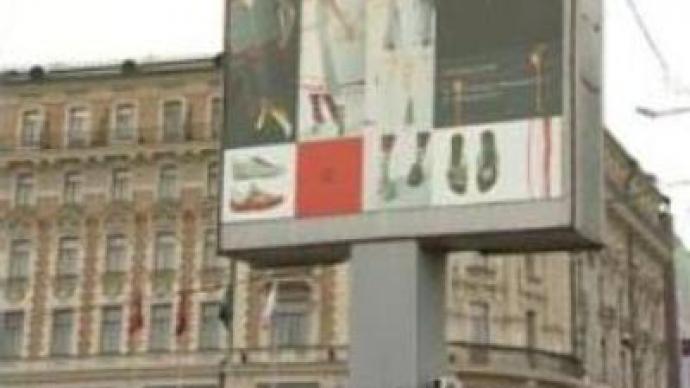 The Russian advertising market is expected to grow faster than the economy in 2007, as it races to keep up with rising disposable incomes. Estimates put the rate of growth for Russia's advertising market as up 25% for 2007.
And the growth is set to continue as the market is still tiny compared to those in Western Europe and the U.S. More Russians have more money than ever before. And that means more products on the market, more services and more marketing.
"The only way to help people spend this money is by advertising. That means that the advertising market in Russia is set for a major increase – for major growth in the next several years,"
Evgeny Golossnoy, Senior Analyst at Troika Dialog brokerage indicates. Those in the ad business say the banking and beauty sectors grew most in 2006. With the increase in available loans, banks have been developing their advertising strategies, to entice Russian consumers through their doors.
"This is something that banks in this part of the world, and retailers in this part of the world haven't yet mastered. They've spent the last 10 to 15 years working on how things work on the inside, know they're focusing on what is looks like on the outside and how it looks to the customer,"
Michael Ruckman of Senteo company thinks. And Russians are in a league of their own when it comes to spending money on looking good. According to Jane Wagner, CEO of Saatchi & Saatchi Russia,
"If you look at Moscow and St Petersburg, Russian men and women are very health conscious and beauty conscious and brand conscious." "An average Muscovite woman has three lipsticks in her hand bag. A Parisian has only one,"
she indicates. The business of attracting these brand conscious consumers is on the rise. Advertising in print media rose by a projected 10% in 2005. Outdoor ads such as billboards by nearly 20%, TV by 27% and the internet by a huge 70%. But Russia's advertising spending is still tiny – coming in at just $US34 a head in 2005, less than a tenth of that spent in the United Kingdom. Analysts estimate that the market will grow faster than the economy over the next year. But the numbers don't tell the whole story, as much of the growth reflects inflation. New regulations were introduced in 2006 – ending tobacco advertising on billboards and limiting the amount of advertising on television. This will lead to a surge in ads in other media and the internet. It is set to soar.
"The consumers can choose what they want to see, what they want to do. It's interactive as well. And it's also still quite undeveloped here in Russia,"
Jane Wagner states. So, over the next year Russian advertising looks set to become increasingly diverse and wide-spread. The regulations are not expected to hold back Russia's advertising boom. The ad market is forecast to grow by more than 20% in 2007 – as Russians continue to earn more, to want more, and to spend more.
You can share this story on social media: