Russian pirate haven homes under fire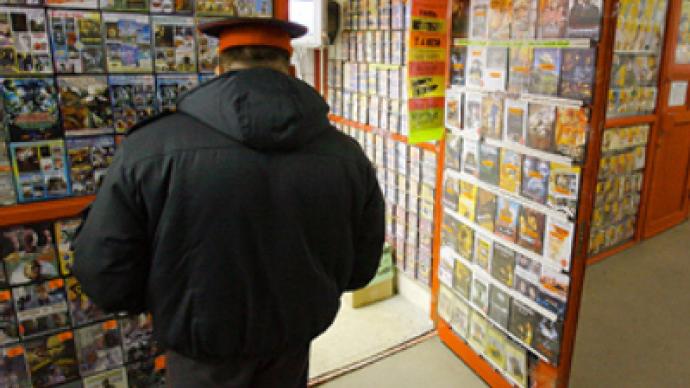 Police have launched a giant raid on video pirates in 13 countries. But a top Hollywood executive tells RT they must fight the world's worst offender - Russia - which is exporting the crime across the globe.
9 in 10 DVDs in Russia are fake, and the problem is getting worse. The industry guard dog warns the nation's ballooning into an exporter of piracy, according to Michael D. Robinson, Chief of Operations at the Motion Picture Association.
"Russia has become an increasing problem and concern for us, because many titles are first camcorded in Russia and then distributed worldwide. In the film industry it's about an $18 billion a year problem."
In the heart of Moscow, you can openly buy iPhones before their official release, and 3D blockbusters for €2, a fifth of the recommended price. The pirates' paradise of Europe is Gorbushka mall. Police seized 26,000 illegal I – phones and discs here in August. They came back last week, and found another 3,000.
But authorities are launching a mass counter-strike. On Tuesday night, investigators seized 49 huge servers across Europe hosting copyrighted material for free. Officers also stormed the Moscow HQ of Korean electronics giant LG, which used unlicensed versions of Photoshop and CorelDRAW.
Business RT has obtained this new 49-page white list of top Russian films. From next month internet service providers must kill unauthorised uploads of these movies, without waiting to be notified by film producers. MPs will hit transgressors in a strict new anti-piracy law, according to Grigory Ivliev, Head of the Culture Committee at the Russian parliament.
"We're ready to raise penalties for offenders, and hike fines for providers who fail to delete illegal content."
Finally prosecutors have opened a probe into the Gorbushka mall. A court spokesman Business RT they will make the holy of pirate holies quit its life of crime, even if that means its closure.
You can share this story on social media: