Russia to boost livestock exports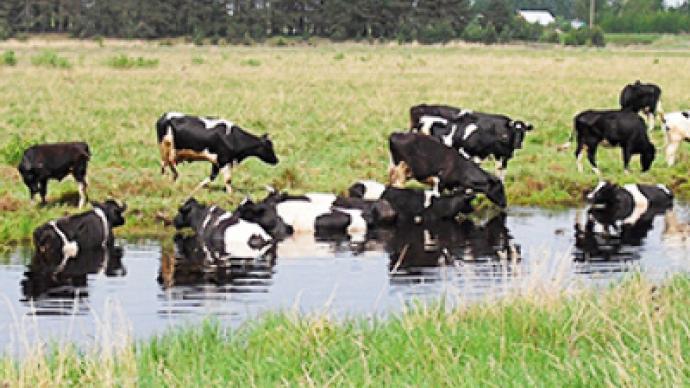 A meeting between President Dmitry Medvedev and Elena Skrinnik, Agriculture Minister, in Belgorod has underlined Russia's potential to become a bigger player in the global meat export market.
Unveiling plans for a new long term strategy on animal husbandry, the Minister of Agriculture noted that Russia has a great potential to expand poultry exports to 400,000 tones, and pork to 200,000 compared with current total exports of 10,000 tones per year.
"We propose to revise all this into coordinated live stock strategy until 2020"
Skrinnik added that the revised strategy will comprise a long term meat product production and consumption forecasts, along with, measures to improve technology and breeding in the sector. She added that incentives to spur high quality forage production, and to attract better expertise into the sector, will help reduce Russia's dependence on meat import.
"Within the strategy we forecast an increase in poultry production of 78% – the volume of production will pick to 6.2 million tones, the increase in pork breeding is forecast to rise by 84% up to 5.35 million tones, and beef stock by 14%."
The Minister announced the opening of 149 new and modernized facilities in the live stock sector.
Andrey Chernyavsky, due diligence consultant at 2K Audit says the Russian meat husbandry market has expanded during last 5 years with strong government support and investments.
"The Government has chosen this sector of the economy assuming a quick return on investment. However, with the current rates of pork and poultry production increases we expect to see exports by 2015."
But Chernyavsky also warns that the current drought in many of Russias key agricultural regions may hit the strategic plans.
"According to figures of the past decade, forage production has not been showing any growth, and following the recent drought it might show a slump which will force the slaughter of cattle"

Aghvan Mikaelian Director General at Fin Expertise is more optimistic saying that Russia possesses major uncultivated land resources to support forage production.
"Russia is in a unique position – we have about 20 million hectares of uncultivated land. It is actually ready to pasture"
You can share this story on social media: