Czech steel closure highlights Russia not crisis-proof
Published time: 15 Oct, 2012 10:05
Edited time: 15 Oct, 2012 14:05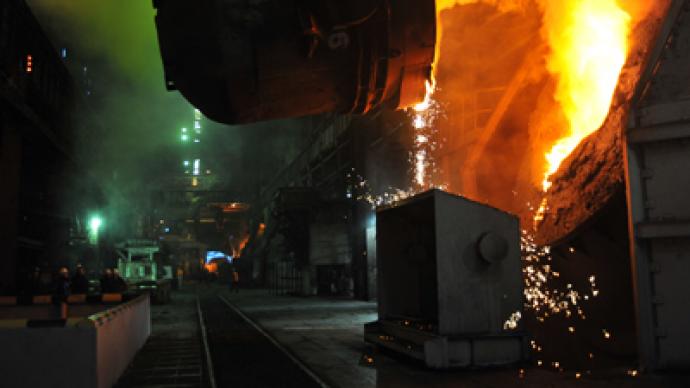 Russia's second largest steelmaker Evraz has stopped steel production at its Czech subsidiary as the crisis has eaten into European demand. Russian production may start to suffer soon, analysts warn.
Operations at Evraz Vitkovice Steel, the only producer of steel sheets in the Czech Republic and one of the biggest in Europe, has been frozen in an effort to cut costs because of shrinking demand, according to Reuters.
The Evraz Czech facility also makes rolled steel products that are used to make cars, ships and bridges. While steel production will remain idle for some time, the rolling plant remains open.
"The duration of steel shop suspension depends on numerous factors that are now being considered by the management," Vitkovice Steel spokesmen Jaromir Krisica said in an email, without giving any further detail.
Some of the employees who were sent home will be receiving 80% of their salaries, while the remainder should be either transferred to work in other production departments or do maintenance work, Krisica explained.
The European steel market is suffering the strongest downturn, according to a report from the World Steel Association (WSA). Steel demand in the EU should be down 5.6% year on year in 2012, and add just 2.4% in 2013 to reach 148mln tonnes, according to Association's forecast. "Steel consumption in Europe remains depressive and economic growth in different European regions is uneven," the WSA said.
"In Europe, especially in its southern part, steel demand is now low, as economic activity slowed down. The latter is traditionally more dependent on politicians than companies, which complicates making any forecasts for market players," Aleksey Morozov, an analyst from UBS, told Kommersant daily.
Alarm bells rang in the world steel market in October, when the largest steel –casting company ArcelorMittal said it had stopped two of its blast furnaces in Floranzh, giving the French Government2 months to find a customer for the capacity.
Russia may also get infected by the downturn in steel markets, as analysts from Sberbank Investment Research told Interfax. Such domestic factors as poor logistics, inflation costs, as well as excessive supply in the market could add to the existing European gloom, analysts warned.
The Vitkovice steel mill is a key customer of the Czech unit of ArcelorMittal which supplies it with raw materials.
Vitkovice supplied 760,000 tonnes of steel slabs and 824,000 tonnes of rolled products last year.