Central bank introduces new approach on speculation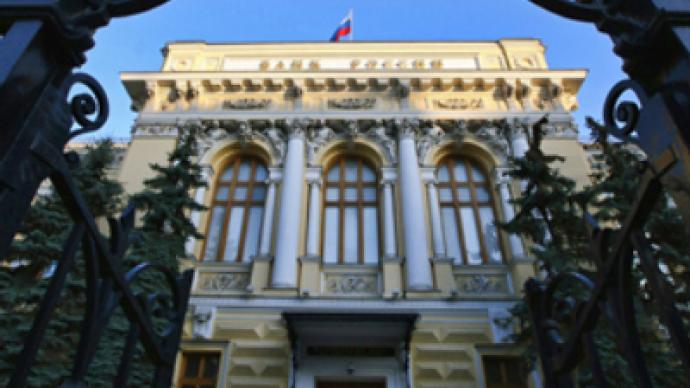 Russia's Central bank announced on Monday that starting from this month it is tying the Rouble exchange rate to the oil price, in a move which will make it more volatile but reduce speculation.
The Central Bank of Russia has introduced a new scheme of disclosing all the information about the it's interventions in the domestic market. It says this includes target interventions to reduce the impact of speculation on the Rouble, caused by non fundamental economic factors and which aren't considered part of managing the Rouble within its existing currency basket bandwidth.
However, the Vladimir Tikhomirov, chief economist at Uralsib, said to Vedomosti that only the titles were changed, with the essence remaining the same. From now on the term "planned interventions" is replaced with "target interventions".
In recent months the Central Bank has been fighting an appreciating Rouble, backed by high oil prices and the inflow of short term capital, with investors and capital markets following the trend. For the time being that operiod appears to be over with the rouble weakening against the currency basket in the wake of a major slump in the Euro and the subsequent flight of global capital to dollar safety. Deputy Head of the Central Bank, Alexey Ulyukayev, warned last week that the long trend of a strengthening Rouble wasn't likely to continue into the future, with rising imports likely to bring the trade balance down.
"The time of excessive currency is either coming to its end or already over. This will be replaced by the turns of excessive money and deficit. This means a more volatile Rouble and there won't be a particular trend, neither strengthening nor weakening."
Uralsib's Tikhomirov agrees that rising imports will balance the current account, reducing the need for interventions, and that currency fluctuations can stop the inflow of speculative capital. Vladimir Savov, Otkritie FC's Head of Research believes the move is largely formalizing what is obvious.
"To my mind, the CB's move just shows that Russia's authorities recognized the economy's dependence on the oil price, that has been there for several months already. And this is quite a logical step in the situation of a low inflation that we have today in Russia."
Savov added that the move is a step towards floating the Russian currency, which he believes could occur soon.
"I think, floating Rouble is quite possible some time soon, especially taken the rising confidence in Rouble and a growing amount of settlements in the currency. If before people tended to convert their money into some foreign currency, then today they are more likely to stay in Rouble. Moreover, the level of competition in some Russian industries also makes it possible."
You can share this story on social media: