Rusal sets sights on $2.6 billion Hong Kong IPO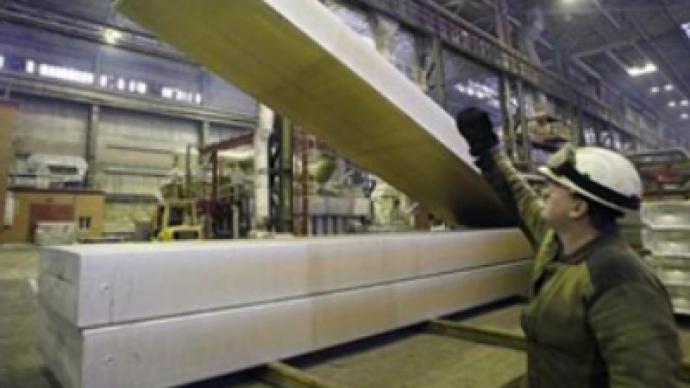 Russian aluminium producer, Rusal, is planning to raise as much as $2.6 billion in its Hong Kong listing according to its prospectus.
The company, which has recently negotiated a comprehensive debt restructuring deal with lenders, will sell 1.61 billion shares at a price between HK $9.10 and HK $12.50, equal to about 10.6% of the company, and valuing it at as high as $23.4 billion.
Seeking to repay an estimated $14.8 billion in debt, at a time the global aluminium market is suffering from falling demand and marked overcapacity, the prospectus shows that Rusal made a net loss of $868b million for 1H 2009, compared with a profit of $1.4 billion for 1H 2008, and forecast a net profit for this year 'unlikely to be less than' $434 million. Rusal has also indicated in the prospectus that it does not expect to pay dividends until 2013 as it meets debt commitments.
The IPO will see the stake of controlling shareholder, Oleg Deripaska, fall from 53.35% to 47.59%. Rusal has negotiated for four cornerstone investors who will buy 39% of the shares being made available, or 4.2% of Rusal. These investors include Vnesheconombank, which will buy 477 million shares, New York Hedge Fund Paulson & Co, which will invest $100 million, and investment magnates Nathaniel Rothschild, committed to $50 million, and Robert Kuok committed to $20 million.
The shares will be finally priced on January 22 and expected to commence trading on January 27, with Rusal indicating in its prospectus that the funds raised will be used to satisfy creditor obligations.
"The group intends to use all the net proceeds received from the global offering to immediately reduce outstanding debt and to satisfy other obligations to its creditors,"
The Hong Kong Securities and Futures Commission has placed a minimum investment threshold on the offering, limiting access to the IPO to those investors who can subscribe for at least HK $1 million, with subsequent trading in lots of HK $200,000. The IPO is expected to be the largest in Hong Kong in 22 months, and is the first listing by a Russian company there.
You can share this story on social media: