Rusal posts 1Q 2011 net profit of $746 million
Published time: 12 May, 2011 07:11
Edited time: 12 May, 2011 11:38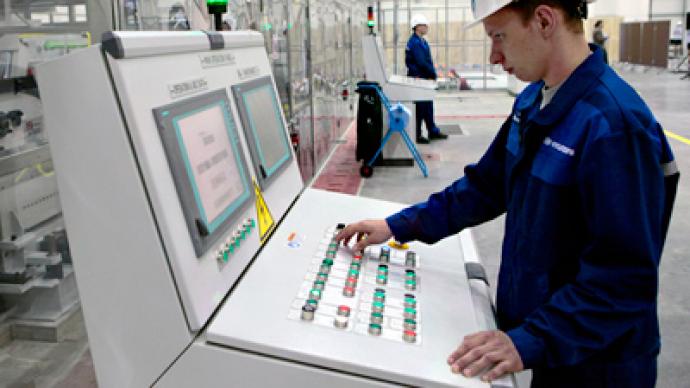 The world's largest aluminium producer, Rusal, has posted a 1Q 2011 net profit of $746 million under IFRS.
The net result is more than triple the 1Q 2010 net income of $247 million, with 1Q Adjusted EBITDA rising 40% year on year to $682 million, as 1Q revenues 28.4% year on year to $2.993 billion.
Rusal said the figures reflected higher aluminium and alumina market prices, coupled with a 4.2% year on year increase in total aluminium output to 1.014 million tonnes, and a 9.5% year on year increase in alumina output to 1.996 million tonnes.The company also highlighted a reduction in obligations under debt restructuring agreements by $860 million, with a reduction in net debt to $11.382 billion.
CEO, Oleg Deripaska, warned about the impact of inflationary pressures in Russia, noting the company had been able to limit these during the quarter.
"The first quarter of 2011 was a difficult one for aluminium producers, and our financial results reflect the current situation in the global aluminium industry and in the Russian economy. On the one hand, high inflation has had a negative impact on all aluminium producers, with UC RUSAL coming under particular pressure due to the sharp rise in energy tariffs in Russia in the first quarter of 2011. The company is taking a number of steps to mitigate the impact of escalating tariffs through the negotiating of new long-term electricity supply contracts, and the development of our own energy base. At the same time we continued to work to increase the efficiency of our business, which enabled us to keep the cost of sales at the level of the fourth quarter of last year."
But Deripaska also noted that Rusal was well positioned to take advantage of rebounding global demand for aluminium.
"On the other hand, the increasing demand for aluminium, supported by a return to pre-crisis rates of growth of the global economy, has seen a steady growth of aluminum prices, which in the first quarter exceeded our expectations. In this regard, we have revised our forecast and now expect that the average price for aluminium in 2011 will be above USD2,700 per tonne. UC RUSAL is well positioned to take advantage of the strengthening price of aluminium by increasing production and launching new facilities, such as the Boguchansky and Taishet aluminium smelters."