Oligarchs' peace deal sends Norilsk shares up 10%
Published time: 6 Dec, 2012 13:24
Edited time: 6 Dec, 2012 17:24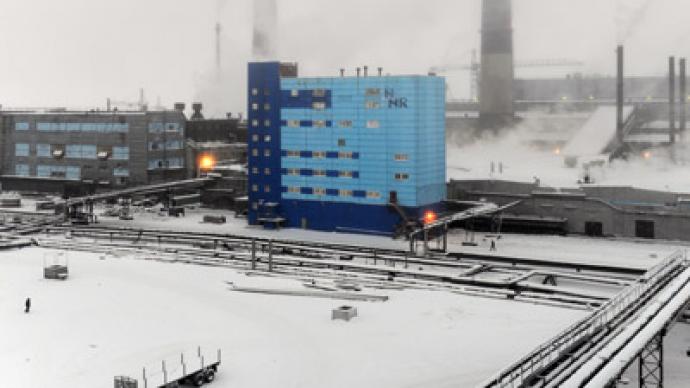 Norilsk Nickel shares hit a 4 month high after the billionaire owners Potanin and Deripaska reached agreement in their $1.4bn dispute. Experts assess the risk of Abramovich participation.
­Norilsk Nickel shares were traded at 4,842 roubles ($157) on the 4th of December right after the announcement; and were at 5,319 roubles ($172) per share by 12:00 Moscow time on the 6th of December. One of the main shareholders of the company Rusal has also seen its share price rise by 5% compared to the close of trading on the 4th of December.
Major shareholders Rusal's Oleg Deripaska and Interros' Vladimir Potanin had been battling over the management of the company. Now they have agreed that Potanin will become the company's CEO, avoiding a civil trial at the High Court in London. Roman Abramovich is buying just over 7% of the company. He will play the role of a neutral third party that will be able to balance the influence of the two partners. Under the terms, Rusal, Interros and Millhouse Capital will place 22% of Norilsk Nickel in a specially created bank account, RBC daily reported. Abramovich's Millhouse would use this stock for voting, according to the paper.
The parties have also agreed to changes in the composition of the 13-member Norilsk board. Interros and Rusal will each get four seats and Millhouse will have three seats, according to a Rusal statement.
Experts say the company's shares rise is positive and long awaited. Morgan Stanley Russia Managing Director Dmitry Kolomytsyn says the new shareholder structure should improve the company's corporate governance and transparency, but there are new risks with Abramovich and his Millhouse on the board.

"Millhouse could potentially receive more seats than it should. The other potential risk is that Norilsk Nickel would have to pay more dividends than it should, and that the capex program could be reduced way to much for the company to be able to deliver the long term targets that they have set", Kolomytsyn told RT.
The Russian tycoons have been fighting since 2008, when Deripaska bought a 25% stake in Norilsk Nickel from Potanin's former business partner, Mikhail Prokhorov. Rusal claimed that Potanin violated its rights to board representation and demanded $1.4bn compensation. The two billionaires prepared to head to court in London, which was due to start on Monday, but after the new agreement it has been postponed until February.