Market Watch December 12: Russian stocks lower as 'Carmaggedon' looms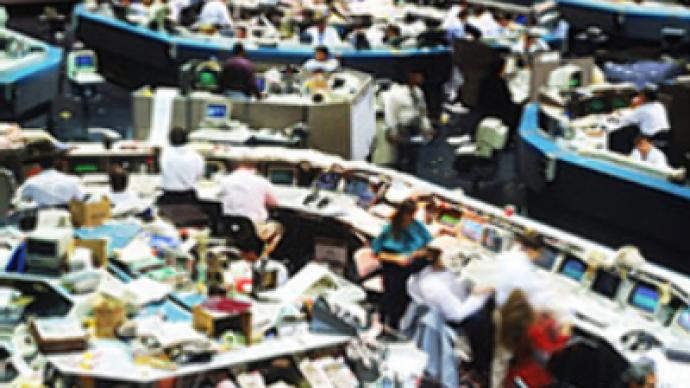 Russian stocks fell heavily in early Friday trade, with both the RTS and Micex calling trading halts for hitting the 5% daily movement band. Global equities shuddered in the wake of the rejection of the U.S. bailout package for carmakers, and sliding cru
With stocks worldwide staring yet another meltdown in the wake of the rejection of the American carmakers bailout bid, Russian investors were looking at a heavy fall from the outset. During the day came further negatives in the form of Deputy Economy Minister, Andrei Klepach, stating that Russia was now in recession, with the Central Bank continuing its easing of the Rouble trading band.
Oil traded lower as the prospect of 3 million additional autoworkers joining unemployed queues in the immediate future was factored into the demand outlook. The Brent and WTI spot price and Nymex for January fell to the $43-$44 BBL range. Despite this on the day Lukoil (up 1.34 %) and Surgutneftegas (up 0.45%) posted minor gains, while Gazprom-Neft (down 0.45%), and Rosneft (down 4.26%) were down. Things were no better for gas producers with Gazprom (down 0.32%), Ritek (down 1.09%), and Novatek (down 7.83%) all taking a hit.
Metals and Commodities prices wilted though the day, with gold and silver also easing. Norilsk Nickel (up 0.02%) managed the slightest of gains on board approval for resumption of its share buyback, while Polyus Gold (down 0.74%) and Polymetal (down 1.93%) kept falls in check. The days trade was tougher elsewhere with steelmakers NLMK (down 11.29%), MMK (down 10.56%) and Severstal (down 9.92%) taking sizeable hits, while Raspadskaya (down 6.87%), Uralkali (down 6.22%) and Acron (down 5.44%) were all down as well. In the automaking world Kamaz (up 4.86%) posted a good gain with Daimler taking a 10% stake in the company, while Avtovaz (down 1.37%) took a minor hit, and Sollers (down 12.6%) a much bigger one.
With Russia's Deputy Economy Minister declaring that Russia was already in a recession, while the Central Bank was easing the Rouble trading band, big state owned banks were in favour. That saw Sberbank (up 0.22 %) and VTB (up 3.33 %) post gains while smaller private rivals Bank Moskvy (up 0.56%), Bank Vozrozhdenie (down 1.42%), and Rosbank (down 4.06%) all bore the brunt.
In the retail and consumer goods world Sedmoi Kontinent (up 1.8%) and Lebedyansky (up 1.75%) worked to a higher close, while Magnit (down 3.34%), Wimm Bill Dann (down 1.83%), Pharmacy 36.6 (down 0.50%), and Kalina (down 2.71%) all closed off their starting marks.
Telecoms kept their movements within sight of the overall market. That saw MTS (down 2.36%), Uralsvyazinform (down 3.91%), Rostelecom (down 0.83%), Southern Telecom (down 1.72 %), Dalsvyaz (down 2.05%), and Volga Telecom (down 0.33%) lower, while Center Telecom (up 0.14) eked out a gain. Elsewhere Armada (down 11.66%), Pik Group (down 11.39%), Aeroflot (down 2.42%), and RusHydro (down 6.65%) all ended the day lower.
All percentage movements refer to closing prices on the Micex
You can share this story on social media: