MAKS-2013 air show kicks off with prospect of record deal making
Published time: 27 Aug, 2013 14:39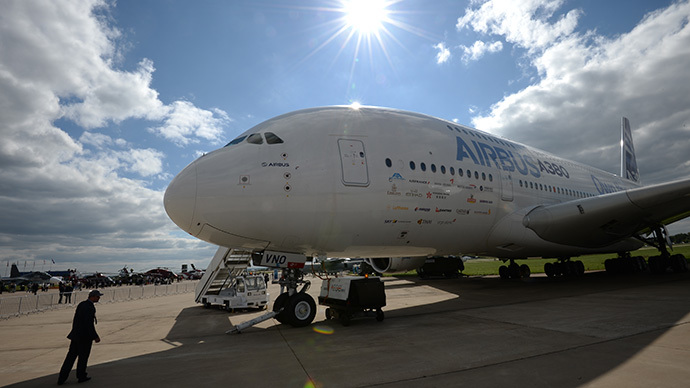 The world's top aircraft makers are expected to seal multi-billion dollar deals as Russia is set to replace its aging air-fleet.
The organizers hope to beat the MAKS-2011 record where $10bn worth of contracts and deals were signed.
"We expect to sign additional contracts to supply SuperJet and mid-range MS-21 passenger jets. The Ministry of Defense did not give up on the purchase of MiG-35. This purchase is planned in the framework of the state armament program, and just getting ready to be signed. Maybe it'll be signed at MAKS", Russia's Minister of Trade and Industry Denis Manturov told Vesti.ru
Russians carrier Utair plans to acquire six SuperJets for $217mn in a deal financed by VEB-Leasing.  Russia's top private airline Transaero will sign an agreement to buy 20 Boeing 737s, Interfax reports.
Russia needs to replace hundreds of planes as booming passenger numbers drive higher demand. Earlier this month President Vladimir Putin pledged his support to the aerospace industry with its ambition to sell $250 billion worth of aircraft by 2025. But the country's flagship civil aircraft program SuperJet has been plagued with problems, proving Russia is struggling to revive domestic aircraft manufacturing. Many orders are set to go to overseas plane makers such as Bombardier, Boeing and Airbus that view Russia as an important growth market, Reuter's reports.
"Three of the largest replacement markets in the world are the US, Europe and Russia, where many older airplanes need to be phased out and more efficient airplanes brought in," Reuters quotes managing director at Boeing Commercial Airplanes Mike Barnett. 
Boeing says it expects airlines in Russia and the former Soviet states to take delivery of 1,170 planes over the next 20 years at a cost of $140 billion, the agency reports.
Airbus expects Russia to take sixth place globally in terms of new passenger aircraft demand by 2030.
Foreign manufacturers already dominate the former Soviet Union region, according to figures on Boeing's website, which show around 70 percent of fleets consist of Western-built planes as opposed to less than 2 percent in the mid-1990s.
"It is ... a market place where they have an ageing fleet and a couple of our products fit in the specific niches where the Russian aviation industry isn't focusing," Reuters quotes the vice president of sales and asset management at Bombardier Commercial Aircraft Rod Sheridan.
More than 260 companies from 43 countries are expected to participate this week at MAKS.
Russia will have 165 aircraft on display, but there will be no new models among them.