Kremlin eyes Norilsk Nickel?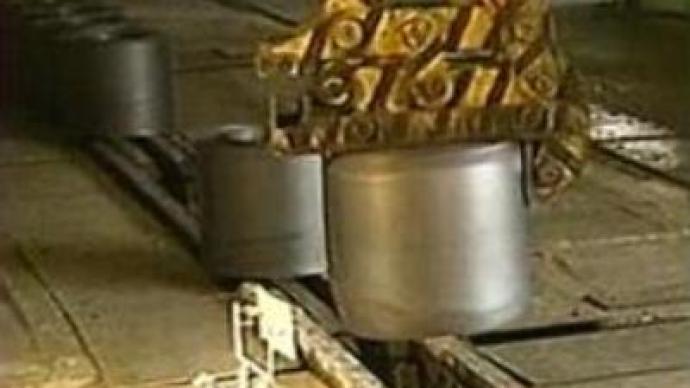 Following Russian billionaire Mikhail Prokhorov's decision to sell a blocking stake in the world's biggest nickel producer Norilsk Nickel, the Russian media is abuzz with speculation that the Kremlin is about to take control of the company.
They say the company would be later merged with a diamond monopoly Alrosa, to create a state-owned metals and mining champion.
"There are two strategic assets that stick out like sore thumbs, that are not under the federal government's control. One is Norilsk Nickel in the private sector, and the other is Alrosa in the public sector. There seems to be change in the management now within Alrosa; there's rumour that the federal government is gaining control over it. It seems things are moving in that general direction,"
says Roland Nash, Chief Strategist from Renaissance Capital research team.Last week Alrosa said its President Alexander Nichiporuk was stepping down. While the company declined to comment on management changes, the Russian media says the head of Alrosa's investment arm Sergei Vybornov, a former senior manager at Norilsk Nickel, is likely to take his seat.To merge the two companies, the federal government would have to do two things. First boost its stake in Alrosa from the current 37% to more than 50% by buying shares from the Sakha Republic regional government. Second, buy out Norilsk Nickel, a company with a $US 30 BLN market cap. Such a deal analysts say could be done regardless of the price tag.
"The state at the moment is sitting on a huge pile of oil and gas and commodities wealth. It can afford to buy Norilsk Nickel at a market price. It would be better for the market and Russia's economic future if it chooses to do so. The market is very good at evaluating such assets; it's not overvalued, it's valued fairly. I think the government should be willing to buy at the market price,"
thinks Mr Nash.For the combined company to succeed, analysts say it would have to have an aggressive expansion strategy:
"The actual operational synergies are quite low. What you do get is you get scale. They could start taking on new projects that are very capital intensive, very big. They could handle those projects only post-merger, because they would have the size to take them on; that would be a perfect fit, if you will. If they would just sort of tinker around with the political influence Kremlin would give to them, then really great opportunities would be lost,"
says Tim McCutcheon, Partner at DBM Capital.Although experts agree the consolidation of mining assets in a state-owned company would not happen overnight, most say it would take place before the presidential elections of 2008.
You can share this story on social media: