​Nikkei climbs 57% in 2013, biggest rise in 41 years
Published time: 30 Dec, 2013 16:02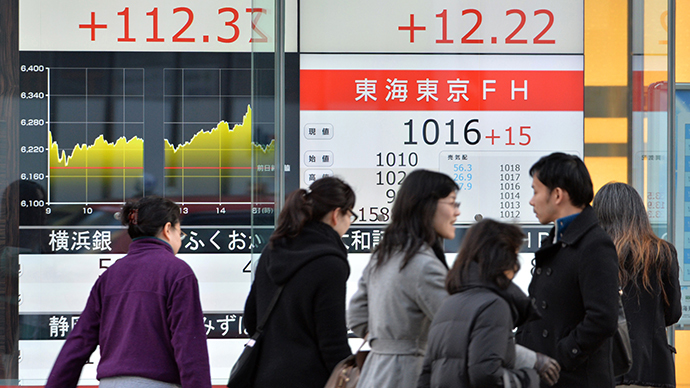 The Japanese Nikkei index has shown its biggest growth since 1972, which is largely attributed to "Abenomics", the Japanese premier's set of measures to boost the economy out of decades of slump.
The Nikkei jump was primarily caused by a falling yen which touched five year lows of 105 to the dollar.
On Monday, the last trading day of 2013, the Nikkei closed 0.7 percent higher - at 16,291.31. Japanese markets will be closed for the New Year holiday and will reopen on January 6.
In terms of the annual growth, the index last performed better in 1972 when it jumped 92 percent.
"Japanese shares finally got the world's attention again this year," Naoki Fujiwara, Tokyo-based chief fund manager at Shinkin Asset Management Co., which oversees about $5.7 billion (600 billion yen), told Bloomberg.
The index growth in 2013 is closely connected with the active economic policy of the Japanese government headed by Prime Minister Shinzo Abe. The policy dubbed "Abenomics" has a three-pronged strategy that involves aggressive monetary policy, flexible fiscal policies, and growth reforms.
Reduction in the cost of yen has proved to be advantageous to Japanese exporters such as Toyota, Honda, and Panasonic.