Russian government eases off on grain export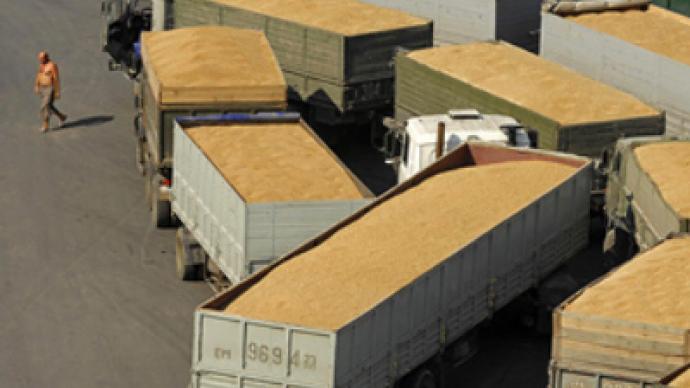 The Russian government has agreed to untie export flows of grain to certain locations abroad.
The export of grain abroad settled in the framework of international treaties, to provide humanitarian assistance to the Kaliningrad region.
The grain export ban came into force on August 15, 2010, with an official presidential decree agreed for five months until December 31.
According to the press release by the Ministry of Agriculture, the grain reserves will cover the demand of the domestic market as well as for food, and for forage supply. Elena Skrynnik of the Minister of Agriculture described the situation on the food market as stable.
"There are no grounds for the sudden increase in prices and shortages of food. According to the ministry, the projected harvest of grain this year will be 60-65 million tons, carry-over stocks from last year are estimated at 26 million tons. This allows the covering of domestic demand, estimated at 77 million tons."
Assuming an optimistic scenario that implies a harvest of 65 million tons, exports should constitute not more than 4.5 million tons. The pessimistic scenario with the harvest of 60 million tons will reduce export expectations to 2 million tons of grain.
However, the geography of a partial export of grain is much reduced and has a goal to provide Russian foreign strategic objects. According to the decree of the Russian government, grain could be exported to the Kaliningrad region. The export of grain and flour is also aimed for the activities of military units of Russia, located on the territory of foreign states, Russian organizations located within the compound Cosmodrome in Kazakhstan, as well as for official use by diplomatic missions, consular offices and other missions of Russia abroad.
Head of analytic research East Kommerts investment Group/IC Univer Capital Dmitry Aleksandrov assumes that the export ease is an echo of the law imperfections
"The go ahead for grain export after a tough ban is a typical government amendment followed by the claims from aside. The Russian officials working abroad and Russian foreign strategic objects may face restriction troubles in terms of provision shortage. Nevertheless, the volume of veiled export is still unclear, and that can provoke price changes on the domestic market."
You can share this story on social media: