Evraz posts 1H 2010 net loss of $270 million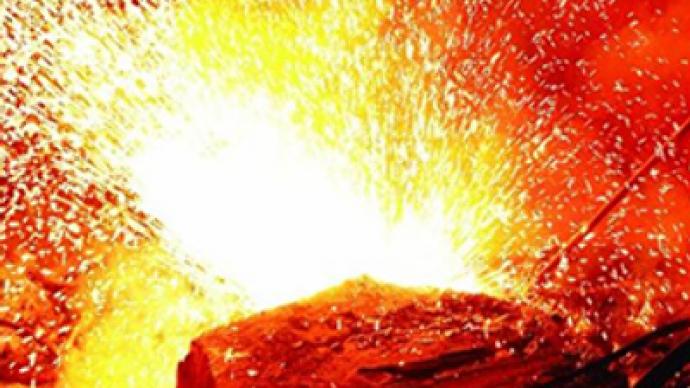 Russian steelmaker Evraz has posted a 1H 2010 net loss of $270 million under IFRS.
The bottom line is up from $999 million net loss result in 1H 2009, on the back of Adjusted EBITDA hike 147% year on year to $1.2 billion reflecting revenue expansion and cost control, and revenues also up 38% year on year to $6.4 billion.
As the report states, steel segment sales accounted for the majority of the increase in revenues, reflecting the growth in sales volumes and average prices of steel products. Evraz's external sales volumes of steel products rose from 6.8 million tons in the six months ending June 30, 2009, to 7.7 million tons in the six months ended 30 June 2010.
Giacomo Baizini, Evraz Group's Chief Financial Officer blames the accounting policy changes and bets on EBITDA's positive figure.
"Our net loss of $270 million resulted from two factors impacting our net result: the adoption last year of the revaluation model of accounting for property, plant and equipment; and a number of one-off transactions totaling $138 million. In the absence of these factors, our net profit for the first half of 2010 would have amounted to $284 million. The increased depreciation expense under the revaluation model of accounting will have a negative effect on our net result in the future, thereby distorting comparison with peers that employ the cost method of property, plant and equipment valuation. Against this background, we believe that EBITDA will provide a more accurate measure of performance."
Although the general demand trend in our key markets is positive with the steel market rebound and company production and sales activity growth, points out Alexander Frolov, Chief Executive of Evraz
"During the first half of 2010 we have seen the continuation of a measured recovery in the global economy which, in turn, has led to an increase in steel demand across all our key markets. Demand in Russia was driven by an increase in private sector construction activity as well as Russian government-financed infrastructure projects, including infrastructure development in preparation for the APEC Summit in the Far East and the Sochi Olympic Games. This has allowed us to fully utilize our steelmaking capacities in Russia and significantly increase the utilization rates of our international operations. Prices for steel products rose steadily throughout the second half of 2009 and the first quarter of 2010, in line with higher raw material prices, followed by a correction in May-July of 2010. Group EBITDA margins advanced benefiting in part from the significant scale of our vertical integration."
The company intends to continue the vast expansion and business development in terms of assets consolidation and international synergies, noted Frolov.
"Overall our key strategic priorities remain unchanged: cost leadership, an appropriate level of vertical integration into raw materials, geographic diversification, a manufacturing focus on infrastructure products and the extraction of further synergies from our international asset base. During the remainder of 2010 our focus will be on driving efficiency gains and operational improvements. We are embarking on a major reconstruction of our Russian rail mills which will herald the production of higher margin products, including the manufacture of 100-metre high-speed rails. The introduction of a pulverized coal injection project, scheduled for completion in 2012, will increase our energy efficiency, eliminate the need for natural gas and reduce our coking coal consumption by almost 20%."
You can share this story on social media: