Duma second reading passes retail trade law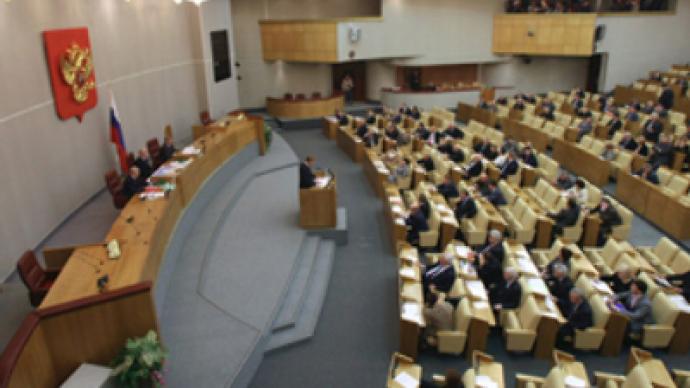 The State Duma has passed a second reading of a new retail trade law which is generating increasing controversy amongst retailers and consumers.
After passing a first reading in September, the draft featured more than 300 amendments before being passed a second time after several postponements.
Amongst the key outcomes of the legislation passed include capacity for the government to impose price ceilings in specific products for specific timeframes, limitations on bonuses paid to retailers by suppliers wanting these to stock their products, a domination threshold to encourage retail competition across all regions and sectors of the economy, a requirement for retailers to indicate why they choose products for sale, and payment timeframes for suppliers to retailers.
The proposals are aimed at creating increased competition in the retail sector with Prime Minister Putin stating there is a need to overhaul relationships along the chain leading to customers.
"Our goal is to build balanced and civilised relations along the entire chain from the producer to the store, and bring order to such a sensitive area as food trade. It is necessary to eradicate the practice of discrimination of producers, stop long delays in payment for the products supplied, and put an end to all sorts of charges, or, as market players call them, 'bonuses', without which even quality and needed products will have no chance to get to the shelves of big trade chains,"
Deputy Chairman of the State Duma Committee for Economic Policy and Entrepreneurship, Andrei Golushko, says consumers will be the first beneficiaries, with experts saying they should protect people from unjustified price increases.
"It is wrong to ask who will benefit and who will lose from this draft law. Consumers will benefit in the first place,"
Price ceilings
The draft law allows the government to set retail price ceilings for "certain socially important basic necessities" for no more than 90 days "for the purpose of price stabilisation". But it limits the power to circumstances where retail prices of these goods have
grown by 30 percent over the past 30 days in a region.
Domination threshold
The draft law imposes a domination threshold limiting trade networks to 25 percent of the total amount of food products sold in a region. Where a trade network currently exceeds this limit it will not be allowed to buy further trading premises in the region. The restriction will apply from from January 1, 2010 within regions, with the exception of
Moscow and St. Petersburg, and from July 1, 2010 within municipalities or city districts and federal cities.
Bonus payments and product selection
The draft law limits bonuses paid by suppliers for the right to have their products stocked by a retailer to no more than 10 percent of the value of food products sold, and adds that no other rewards may be included in the price. It also stipulates that retailers will be required to indicate the selection criteria for the supply of food products and the terms of contracts.
Payment periods
The draft law sets timeframes within which retailers are required to pay for products to suppliers. Food products perishable within ten days, frozen chicken meat, pork and beef, and milk should be paid for within ten working days of their acceptance. For products needing to be used between 10 and thirty days from the date of receipt the payment should be made within 30 calendar days. For products with a life of more than 30 days and alcoholic beverages payment should be made within 45 days.
Reaction to the retail laws
Natalia Smirnova: Consumer market analyst at Unicredit Securities
"Generally speaking, I think, the amendments will provide neither for better competition in Russia's retail market nor stricter control on prices. One of the main amendments to the law concerns a market share of a retailer and this is claimed as the attempt to encourage competition. But, in fact, Russia's retail market is very young and undeveloped, with such popular names as X5 or Magnit having just 4 or 5% of the total market. So, the main competition today is between retailers and the unregulated trade.
As for restrictions on bonuses, I think, retailers will find the way to bypass the law and get their money. The fight for shelves will remain. This will also make the attempt to control prices a failure, as retailers have the planned margin and, obviously, they'll simply increase the prices to compensate for losses from lower bonuses."
Sergey Galitsky: co- owner of Magnit,
"A human life is longer than legislative initiatives and we'll keep on convincing both the Government the State Duma that imposed strict restrictions won't make the competition in Russia's retail market any better."
Ilya Belonovsky: executive director at The Association of Russia's Retail companies.
"The law creates preferences for foreign producers, who have the opportunity to bypass the restrictions, and will heavily hit small businesses. For retailers the law will mean higher costs. As result, the prices in shops will go up, the assortment will narrow and the quality will worsen."






You can share this story on social media: