Cheese makers look for further market support
Published time: 4 Jul, 2011 10:59
Edited time: 4 Jul, 2011 15:25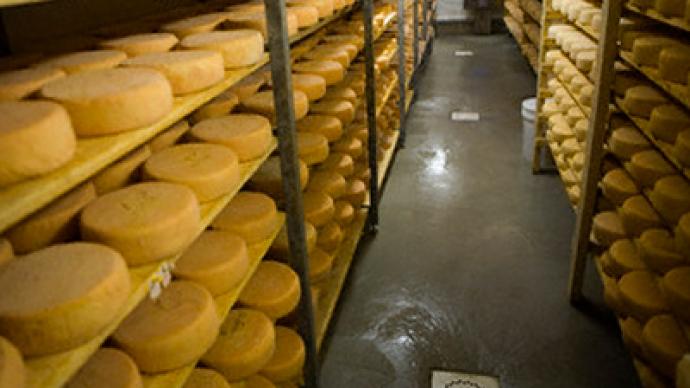 Russian cheese market is experiencing 15% year-on-ear market growth. However, despite a significant increase domestic consumption lags Russian cheese makers are looking to export markets and support in domestic markets.
­Russia imports over 400 thousand tonnes of cheese products each year, makes it a major world importer.   Executive Director of the Russian Dairy Union, Vladimir Labinov says this means that Russian cheese makers need support.

"Russian cheese market includes 40% of imported cheese. I think there is no need to ban import and halt competition as it helps and drives the industry, but the ratio of imported and locally produced cheese should be balanced to ease conditions and help to fight high production costs. Import should accumulate around 20% of the market. That measure could help the Russian dairy industry to pick up." 

From January-November 2010 Russia produced 334 thousand tonnes of cheese, of which only 8.5 thousand tonnes, or 2.6%, were exported. In June this year the Russian government raised taxes on all dairy products imported from Ukraine and Belarus to 25-40%, after claims from the Milk products producers Union that inferior quality products were flooding the Russian market. 

Andrey Dren, General Director Pir-PAK a member of National Union of Dairy manufacturers, said the measures should help to reduce dumping and ensure product quality.

"The measures proposed by Soyuzmoloko will allow the structuring the market and increasing responsibility of the manufacturers. Belarus and Ukrainian manufacturers were accused of supplying low quality cheap products damping prices on the market as a means to reduce taxes. These illegal products could contain vegetable oil and other replacement ingredients to maintain low prices. Only government import regulations can solve these issues. Until the standards of production in these countries are met with our requirements we continue to reduce imports from these countries and concentrate on local manufacturing." 

Russian cheese imports are 28 times more than export.  Germany has become the leading cheese source for Russia in 2010.